London Phone Booths Converted Into Solar-Powered Charging Stations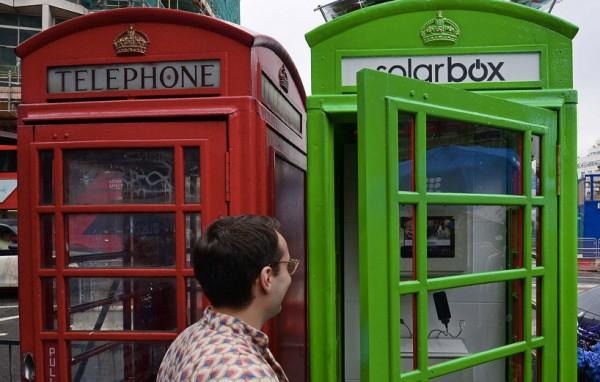 It's the question of our age: what to do with all those unused pay phone booths now that almost everyone has their own cell phone? Well, two entrepreneurs in London may have found the perfect solution, and it's eco-friendly to boot! Six of the city's iconic red telephone boxes have been painted bright green and transformed into charging stations with solar panels on their roofs.
For the last several years, many U.S. cities have been simply getting rid of old, unused pay phones. While the situation is similar in London, nearly 8,000 phone boxes remain standing, with only a few being repurposed, such as housing emergency medical equipment, notes the BBC. This is where local two students stepped in with a goal of using public spaces in new ways, creating the Solarbox as a way to solve the phone-related problem we all face today: not where we can make a call when on the move, but how to keep the batteries in our smartphones charged up.
Harold Craston and Kirsty Kenny won second place this year in the Mayor of London's Low Carbon Entrepreneur of the Year Award with their Solarbox, and now six of the stations are open to the public. The boxes feature a 86 centimeter solar panel on the roof, and are completely free to use, thanks to a screen inside playing advertisements. Each unit is said to be able to charge 100 phones a day, offering a number charging ports available to serve the various devices on the market today, with a 20% battery increase only taking 10 minutes or so. They are locked overnight, and checked daily, so users don't need to fear a dirty or damaged station when needed most.
The phone booths of today have proved popular among the London public, with each station seeing six users per hour, and five more Solarboxes scheduled to open by April 2015. As a true sign of just how useful such a service can be, Craston admitted that it rescued him on launch day, as his phone battery really did run out of juice.
SOURCE BBC