Logitech's newest accessory is a weird VR stylus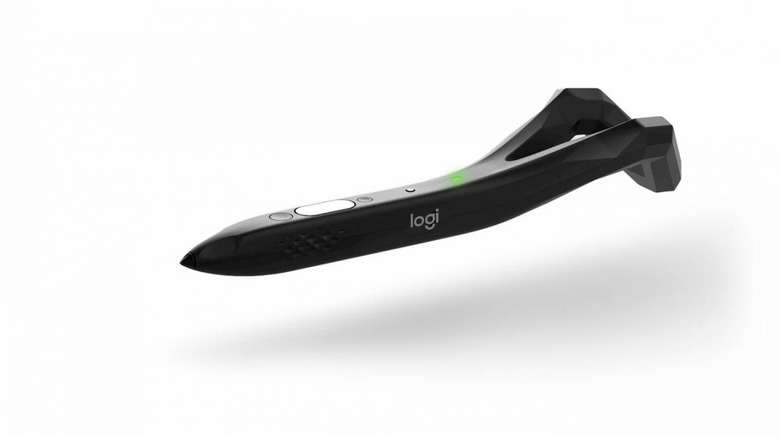 With a new generation of VR headsets seemingly upon us, Logitech has decided to launch a rather interesting accessory for virtual reality: a stylus. Dubbed the VR Ink Pilot Edition, this stylus will allow users write or create either on a 2D surface or in 3D at room scale. The idea, it seems, is to give end users a degree of precision when working in VR that they otherwise may not have.
Unfortunately, it doesn't seem like the VR Ink Pilot Edition will available to us regular consumers, at least not in the first generation. Logitech is launching the VR Ink as a tool for enterprise customers, perhaps as something of a proving ground for a wider array of virtual reality uses.
The VR Ink works with headsets that use Steam VR tracking – which means it'll be compatible with VIVE headsets and the Valve Index but not with headsets from Oculus – a features a pressure-sensitive tip. It also offers a button for grabbing your VR creations and moving them around, along with a mini touchpad that will allow you to manipulate projects further.
It sounds like a pretty cool piece of kit, but for the moment, it seems that Logitech doesn't have a ton of use cases hammered out. Today's announcement was equal parts product reveal and call to action, as Logitech wants to get "people in companies pushing boundaries in the VR space" to discover ways the VR Ink Pilot Edition can be integrated into their apps and explore ways it can be used as a VR tool.
Logitech says that it will sell "a limited number" of styluses to companies and partners that want to find ways to integrate it in their projects and think up those potential use-cases. Pre-orders will open at some point in the coming months, with the VR Ink Pilot Edition slated to launch at some point before the end of the year. Pricing wasn't announced today, but you can find more information about the stylus over on Logitech's website.