Logitech's G Pro Mechanical Keyboard was made with pro gamers in mind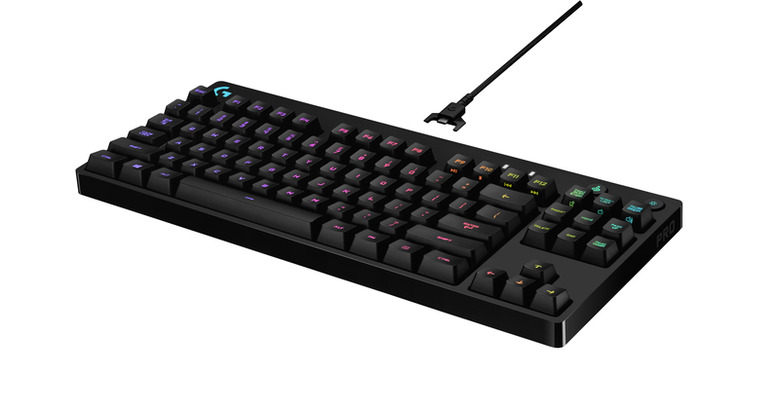 Logitech's G Pro line of gaming accessories is expanding today with the introduction of the G Pro Mechanical Gaming Keyboard. This new keyboard is one of two devices in the G Pro segment of Logitech's larger G series, joining the G Pro Gaming Mouse. Just like it did in the development of that mouse, Logitech has partnered with pro gamers to develop this new keyboard.
Specifically, Logitech worked with players from both Cloud 9 and Team Solomid to pack all of the necessary gaming functions into a keyboard that's smaller than most you'll see. The G Pro Mechanical Keyboard doesn't have a number pad on the right side, cutting down significantly on the size to give players more space for mouse movement.
The keys on the G Pro are made with Logitech's own Romer-G switches, which the company says are 25% faster than normal mechanical switches. On top of that, they're quoted to last for 70 million cycles, so you don't exactly need to worry about your keys failing you. Like most gaming accessories these days, the G Pro ships with RGB capabilities, opening the door to 16.8 million different colors as long as you're using Logitech's pack-in software.
The keyboard also features programmable function key macros and a detachable micro USB cable, which makes it a good choice if you find yourself traveling with gaming hardware frequently. While few gamers are likely to take a keyboard on the road, many pro players do, and therefore need a small keyboard that's easy to pack.
Logitech's Pro G Mechanical Keyboard is available now from the company's online store for $129.99 with free shipping. Paired with the Pro G mouse, which runs $69.99, you're looking at a solid pair of gaming accessories for $200, which is an increasingly rare sight during a time when many gaming accessories – especially RGB ones – seem to be getting more and more expensive. If this sounds like the keyboard for you, hit the source link below to be taken to Logitech's listing.
SOURCE: Logitech