Logitech Wireless Solar Keyboard K750 For Mac Hands-On [Video]

As we saw announced in the middle of last month, Logitech it coming correct with its newest iteration of the Wireless Solar Keyboard, this time catering specifically to the Mac user. As we saw at this year's Pepcom Holiday Spectacular (2011), the new K750 not only comes in several color combinations, it actually works with solar power – believe it or not! Our helpful Logitech representatives showed us briefly what the keyboard was all about – check it out!
This keyboard comes in three light color combinations with a blue, pink, or green top, or a slightly darker silver covering most of the face with a black accent at the top, or a fully black option. As you'll see in the video, each color combo is live in effect except for the all-black version. In addition to the keyboard itself, you'll be working with a USB stick (or tiny USB dongle) to connect to your Mac – a MacBook Air here, for example. Each keyboard, they say, for up to three months in total darkness – in the video we see our helpful rep note "three hours", but we're going to guess that this is a mis-spoken factoid since all of the press on this device says three months otherwise.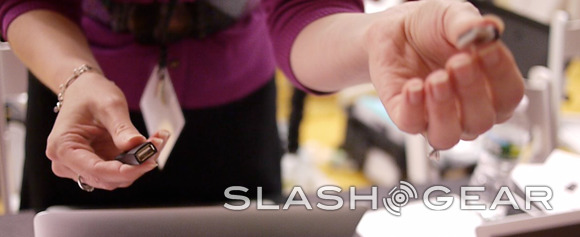 The entire keyboard is only 1/3-inch thick, the keys are set up in a familiar Mac fashion, and all of the keys have a Logitech-specific concave key-cap design. There's also a Logitech Solar App that you can download along with the keyboard that lets you know what your current battery power is and how much power you're getting from your sunlight source or desktop lamp at any given time – yes, that's correct, you don't need direct sunlight to make this device work. The keyboard can grab power from indoor lighting as well!
[vms afe05f7597da2be7a3da]
You get a 3-year warrantee with purchase, the entire 432 x 157 x 7.5 milimeter keyboard weighs in at only 750 grams, and you can grab one right this second from http://logitech.com/ for $59.99.
Sound good?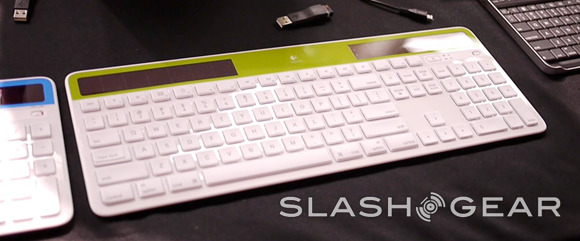 You can also check out the rest of the awesome Pepcom Holiday Spectacular 2011 action by hitting the [Pepcom Holiday Spectacular 2011 portal] – hands-on videos and photos of awesome gadgets, gizmos, and tech-tacular items galore!