Logitech Wireless Desktop MK710 boasts 3 year battery

Logitech have outed their latest keyboard and mouse bundle, and according to the company the Logitech Wireless Desktop MK710 is the first to market where both devices boast three-year battery life.  Both of the wireless peripherals connect to a single Unifying Receiver dongle, and the keyboard has an LCD display to show status and Incurve keys which are apparently more comfortable to type on.
The low-profile board also apparently gets longer key travel than most rivals, and there's a cushioned palm-rest too.  As for the mouse, that has a frictionless scrollwheel with side-to-side navigation and multiple buttons.
We're not quite sure whether Logitech are, as they suggest, "practically eliminating the need to ever replace the batteries" – three years is a long time, but it's not forever – but we won't sniff too much at that sort of longevity.  The Logitech Wireless Desktop MK710 is available now, priced at $99.99.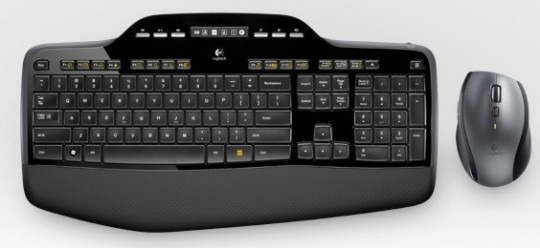 [via Logitech Blog]