Logitech Ultrathin Keyboard Folio and Protective Case for Samsung Galaxy Tab debut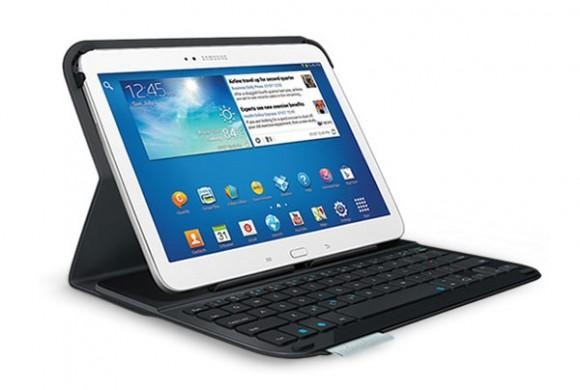 Logitech has been making protective cases and keyboards for a number of tablets for almost as long as tablets have been around. This week Logitech has announced the launch of some new accessories for the Samsung Galaxy Tab tablets of different sorts. One of those accessories is the Logitech Ultrathin Keyboard Folio for Samsung Galaxy Tab 3 10.1.
The keyboard portfolio is designed offer protection to the tablets front and back sides. As the name suggests, the big feature of the folio is the integrated keyboard featuring a standard QWERTY design. The keyboard has time-saving Android shortcut keys for copy, paste, undo, and more. The keyboard case is water resistant and designed to protect the tablet from drops.
The case also features a dual-view stand that can hold the tablet into positions with one position flat for touch operation and another sitting upright for comfortable typing. The keyboard recharges via an included USB cable with up to three months of battery life per charge based on two hours of use each day. The keyboard folio can be pre-ordered now for $99.99.
The other new product Logitech has announced is a series of Folio Protective Cases designed to fit several members of the Galaxy Tab 3 family. The Logitech Folio Protective Case for Samsung Galaxy Tab 3 is available for the 10.1, 8.0, and 7.0-inch tablets. The case itself is very much like the Keyboard Folio only without the keyboard. The case will protect against drops, spills, and life on the road. The cases also have a built-in multiview angle stand. All three sizes are available for $49.99.
SOURCE: Logitech