Logitech Rugged Combo case and keyboard launches for 9.7 iPad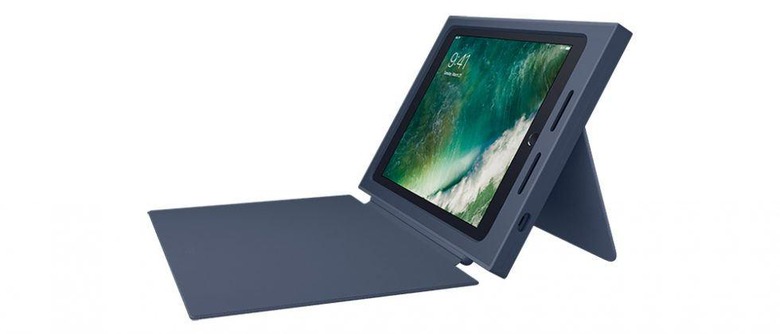 Logitech has announced the launch of its Rugged Combo protective case and keyboard for the new 9.7-inch iPad. The case was, according to the company, made for those in the academic world: for teachers, students, and others in need. The case isn't merely to prevent scratches and scuffs — it can keep the slate safe during drops onto hard surfaces like concrete from heights as high as 6ft.
iPads are popularly found in classrooms, in the hands of waiters at restaurants, and more, and those same slates are at risk of being dropped or knocked off tables. Given the relative fragility of a tablet, any tablet, it only makes sense to shroud it in a protective case, but some cases don't live up to their promises and others made usage difficult.
Enter Logitech's Rugged Combo and the promise that its case can help protect the latest Apple slate without compromising on usability — in fact, usability goes up thanks to the optional add-on keyboard for the case, which draws power from the iPad itself and connects via a secure, proprietary connector.
The keyboard features a Lightning connector pass-through for powering and transferring things to the iPad. The keys are said to be arranged in a 'laptop-like' way for ease of use, and it uses Scissor Keys tech for comfort. The keyboard also includes shortcut keys for controlling certain things about the iPad, such as volume and brightness, without lifting your hands from the keyboard.
Logitech is making this case available to schools and districts in the United States and Canada starting next week. Pricing isn't clear.