Logitech QuickCam Optics upgrade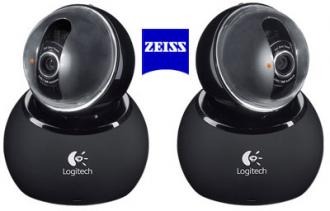 Logitech has finally revamped their high end series of QuickCam Orbit web cams. This is not the first Logitech camera to be upgraded to Carl Zeiss optics, but it's probably the most exciting. Well, just about as exciting as web cams get.
The name has been changed from the QuickCam Orbit MP, to the QuickCam Orbit AF. Adding auto focus to the Orbit, and dropping the 'megapixel' denotation because the cam now operates on a 2 megapixel sensor. The new webcams also feature streaming 'HD' video, at 960 by 720. New software also makes for a smoother experience, allowing you to upload video directly to Youtube.
I can't say that I've ever really had use for a webcam, and at $129, I don't see myself picking up the QuickCam Orbit AF anytime soon. But for people who frequently use their webcams, this cam really takes the cake as far a video quality goes.
Logitech QuickCam Orbit Gets Carl Zeiss Lans & Autofocus [via Everything USB]