Logitech has launched a new Bluetooth keyboard for the gadget-unfaithful, with the Bluetooth Multi-Device Keyboard K480 able to switch between three different devices at the caress of a dial. Intended to jump between your PC or Mac, your tablet, and your phone – or any other combination of devices, in fact – the K480 also finds room for shortcuts for the more popular platforms.
There's also an integrated stand, so that you can prop up a phone or tablet and type on them more comfortably.
The keyboard hooks up to three devices simultaneously, and then a dial on the left of the 'board switches between them depending on which you want to enter text into. It'll work with Windows 7/8+ PCs, Mac OS X, Chrome OS, iPads and iPhones running iOS 5+, and Android phones and tablets running 3.2+.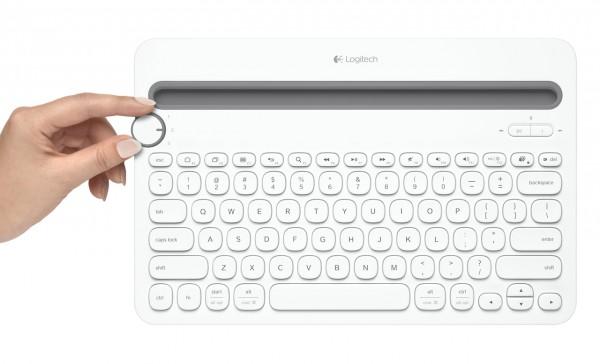 A couple of AAA batteries are good for up to two years of use, Logitech claims. Two colors are offered, and Bluetooth range is up to 10m.
Logitech says the Bluetooth Multi-Device Keyboard K480 will arrive in the US and Europe later this month, priced at $49.99.
SOURCE Logitech