Logitech offers N315 lapdesk to couch workers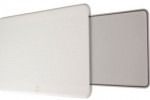 One of the good things about working from home is that you can work on the couch in your underwear if that is what you want to do. The downside is that working with your laptop actually in your lap can be uncomfortable. Logitech has a new Lapdesk called the N315 that may make working from your couch more comfortable.
The N315 is sized to fit laptops 15.6-inches and under. The lapdesk is made from a plastic material that prevents heat from getting through to your body. Another nice feature is that the lapdesk has a slide out mouse tray to give you enough room for an external mouse.
The Lapdesk is covered with a non-skid material that keeps your laptop in place and the top of the desk is washable. Logitech says the N315 is thin enough to fit inside most laptop sleeves and bags.