Logitech offers early access to new Queen album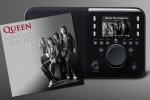 Fans of the rock band queen who are also looking for a new streaming music player will want to check out the new Logitehc Squeezebox Radio that we talked about early this month. Logitech has announced that buyers of the device will get early access to the new Queen Absolute Greatest Hits album before it can be purchased in stores.
Along with early access to the new album, the Squeezebox Radio will also provided buyers with a series of unique band photos and track-by-track audio commentary recorded by the band. The album will hit store shelves on November 16 and for the seven weeks leading up to the launch, Squeezebox Radio owners can listen to the album on their devices.
To get to the album users just choose the Queen application under the new Apps menu on the device and start listening. Among the tracks on the album are "We Will Rock You," "Bohemian Rhapsody" and "A Kind Of Magic."