Logitech launches Comfort Lapdesk for Notebooks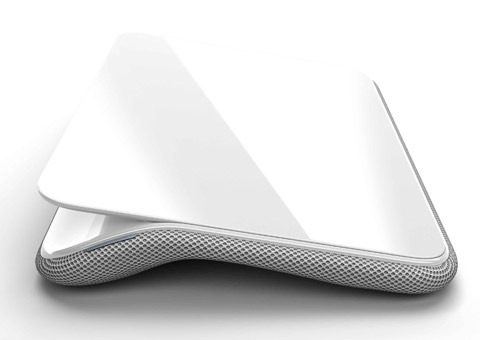 Logictech says laptop home users spend 60 percent of their time on couch, 36 percent on bed and the rest are either sitting or lying on the floor with their notebook. That pretty much covers how I use mine. Also mentioned are the discomfort and heat related issues gathered from their research team. Because most laptop home users, including me, refuse to use the notebook in the much tradition way : butt on chair and notebook on desk; they have came out with a Lapdesk that's said to help with the posture concerns and improve heat dissipation for the likes of me.
The Logictech's Lapdesk features a four-layer, heat-shielding design with fabric bottom and curved base to improve air flow while sits comfortably on your lap. Despite a glossy finish, the top uses a non-slip material to prevent your laptop from sliding around. It's also slightly tilted, about 12 degrees raise to a height that's supposed to ease your neck and leg comfort.
Available for both Europe (January) and US (February) markets in white color scheme, the Logictech Comfort Lapdesk will set you back $40 at the counter.
Logitech Introduces Comfort Lapdesk for Notebooks

FREMONT, Calif. –(Business Wire)– Dec 08, 2008 You can use your laptop anywhere in your home. But what you gain in mobility, you often sacrifice in comfort. To address this pain point, Logitech (SIX:LOGN) (NASDAQ:LOGI) today introduced the Logitech® Comfort Lapdesk for Notebooks – the newest addition to the company's line of notebook accessories. The Comfort Lapdesk provides a stable base and helps protect against laptop heat whether you're working from the comfort of your couch, relaxing on your bed or reclining on the living-room floor.

"While other lapdesks promise improved comfort, they often fall short because of poor design and low-quality materials," said Denis Pavillard, Logitech's vice president of product marketing for keyboards and desktops. "The new Logitech lapdesk has a thoughtful design that will help make your laptop experience more comfortable, wherever you use your computer."

Logitech research revealed that nearly 60 percent of people who use a laptop at home use it on the couch so they can be with their families while browsing the Web, e-mailing or chatting. In addition, the research showed that 36 percent use a laptop on the bed and 16 percent use it while sitting or lying on the floor. However, nearly 50 percent of those people report concerns about laptop heat and 41 percent raise concerns about posture. Some people use a pillow or book in an attempt to provide a barrier to the heat emitted from the laptop, but those solutions often end up trapping heat, making it even hotter.

Unlike makeshift solutions and other lapdesks, the Comfort Lapdesk features a four-layer, heat-shielding design. The bottom-layer's fabric and an air-flow chamber between the lapdesk's base and top combine to further minimize heat. Plus, instead of the whole laptop lying flat against the body, the arched base makes contact with the legs in just four places, improving air flow.

To provide a stable foundation for comfortable laptop use, the cushioned base allows people to relax their legs instead of locking the knees together to support the computer. In addition, a non-slip glossy finish on the top of the lapdesk helps prevent the computer from sliding around. And a 12-degree angled riser positions the notebook to a height that supports neck and leg comfort (when used in a seated position).

When you're done using the computer, the lapdesk's thin, streamlined profile makes it easy to slide under a couch or bed, or it can stand upright for storage next to the sofa.

Pricing and Availability

The Logitech Comfort Lapdesk for Notebooks is expected to be available in Europe in January and in the U.S. in February for a suggested retail price of $39.99 (U.S.).