Logitech K780 Multi-Device keyboard types on Windows, Mac, or Smart Devices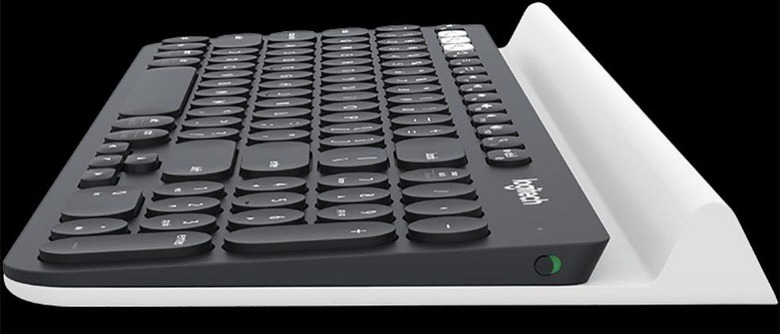 You can work from a tablet or a smartphone if you need or want to, but the catch is that typing on an on-screen keyboard isn't exactly comfortable or fast for most of us. Logitech has a new keyboard that is designed to allow you to type on multiple devices that will make typing as fast for your smartphone or tablet as it is at home on your PC. That new keyboard is called the Logitech K780 multi-Device Wireless Keyboard.
It supports typing on Windows, Mac, Android, or iOS devices. Easy-Switch buttons allow you to change between any three connected devices so you can email on your PC, flip a switch to post a Facebook status on your tablet, and then flip the switch again to answer a text on your smartphone. The K780 is a fully equipped computer keyboard with a 10-key number pad.
Logitech built a slot into the front of the keyboard that has a rubber finish to hold your tablet or smartphone at an angle that allows comfortable viewing of the screen and lets you type away. That slot holds anything from your smartphone to a 12-inch iPad Pro. The slot is 11.3mm wide so you may have to remove the case from your smartphone or tablet for it to fit.
The keys on the keyboard are designed to be quiet and smooth with the PerfectStroke key system. The keyboard is wireless and has a 30-foot range with 128-bit AES encryption to keep your keystrokes secure in a crowded environment. Power is from a pair of AAA batteries and Logitech promises 24 months of use per set. Connectivity is via a Bluetooth receiver or Bluetooth Smart technology. The keyboard can be pre-ordered right now for $79.99 with free shipping.
SOURCE: Logitech