Logitech Harmony Smart Keyboard makes streaming-media device control easier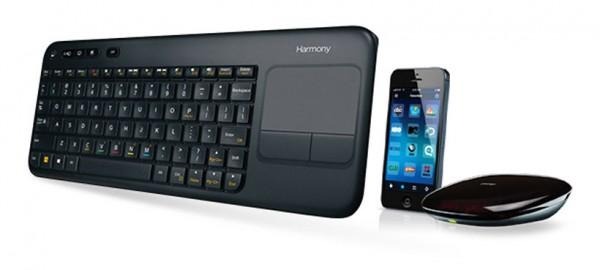 Logitech has announced a new member of the Harmony universal remote family. This isn't a normal remote control like the other offerings Logitech has had in the Harmony line for so long. This is a keyboard aimed at making it easier to type on various game consoles and set top boxes.
The product is called the Harmony Smart Keyboard. Logitech says that it will work with the Apple TV, Roku, Xbox One, and PS3 consoles. The device has an integrated touchpad to control the on screen cursor.
The keyboard also has integrated keys for commands on devices like Guide, Pause, Play, and channel up and down. There are also navigation buttons built-in for game consoles. The keyboard ships with the Harmony Hub allowing the user to use a smartphone app to control their devices as well.
The Harmony App is available for Android and iOS devices. The keyboard lacks the LCD touchscreen that many of the Harmony devices offer, but it does have three buttons for one-touch activity controls like Watch a movie and others. The smartphone app offers several more one touch controls for TV macros. The Hub will translate signals from the smartphone app and keyboard into signals your devices can understand using IR, WiFi, and Bluetooth. This is how the device can work with the PS3. The Harmony Smart Keyboard can be pre-ordered now for $149.99.
SOURCE: Logitech