Logitech and Skype roll out new webcams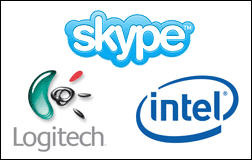 I've never been a fan of videoconferencing. Then again, I'm not really big on talking on the phone either. I'm perfectly content with using an instant messenger for most forms of communication. That's not to say that I can't appreciate the uses for the technology. Skype and Logitech have teamed up to make the best-looking picture possible when utilizing new Logitech webcams.
The new Logitech Quickcam 9000 webcams feature Carl Zeiss auto-focus lenses that display 30fps at a resolution of 640 x 480. The drivers and firmware for the three different cams (the Pro, the Notebook version and an Oprbit/Sphere AF) are specifically tuned for Skype to provide a crisp, clear picture.
The three webcams should be available now, with the QuickCam Pro 9000 and it's notebook counterpart fetching $99.99, while the Orbit/Sphere AF will set you back $129.99.
Logitech Teams Up with Skype for High Quality Video Calls [via gearlog]