Logic3 i-Station25 iPhone speaker-dock review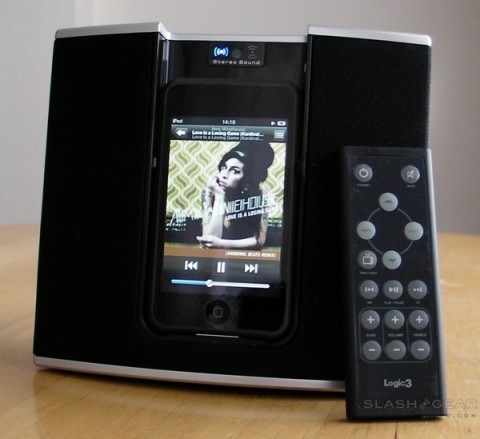 Sometimes a simple problem calls for a simple solution, and the Logic3 i-Station25 is a good example of that.  Recognizing that iPod touch and iPhone users want to not only enjoy audio but video when their PMP is docked, the i-Station25 is designed to tip 90-degrees left or right, courtesy of a wedge-shaped casing.  Flipping genius or flipping frustrating?  SlashGear set to finding out.
The i-Station25 itself is surprisingly compact, standing a little over six inches high and 6.75-inches wide.  The front panel is dominated by the bay for your iPod touch or iPhone, with the standard 30-pin docking connector and two small, spring-loaded grips to hold the PMP in place.  Fitting either requires lining up the connector and then rocking the iPod back until it clicks in; it's a secure fit, and you can tip and even shake the i-Station25 without fear.
Like the iPod touch, iPhone and iPod nano, the i-Station25 is fitted with an accelerometer to switch its stereo speakers from portrait to landscape and back again.  The current orientation is confirmed by one of two LED indicators.  Hardware controls are limited to volume up/down and power, the latter requiring a long-press in order to switch the i-Station25 into standby.  The buttons themselves are loud and quite plasticky.
Round the back there's a deeply recessed port section with DC input, 3.5mm line-in and component video-out.  To comfortable access them you really need to slide off the battery compartment door, which reveals space for the optional four AA batteries.  Above this compartment is a useful finger-slot which makes picking up or flipping the i-Station25 – especially when used without the AC adapter – easy.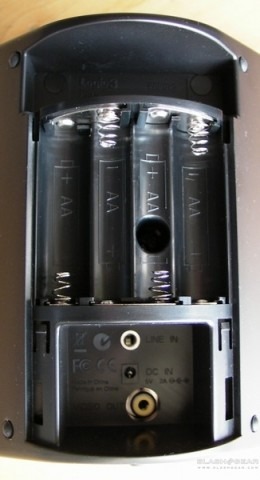 Logic3 also supply a remote, curiously different from their i-Station Rotate.  This has standby, volume, mute and play/pause and skip controls, together with menu, select, up/down and video output, but also offers control over treble and bass.  These latter two features are particularly useful, as out of the box the i-Station25 sounded muffled and dull; after tweaking, the 8W total output through four speaker drivers is never going to knock your off your feet but it's reasonable.  The slightly more expensive i-Station Rotate offers better audio quality, but at the expense of less granular volume control.
If the small display of the iPod grows too tiresome for your eyes, you can always hook up a larger TV with the component-out connection.  You're stuck with the i-Station25's onboard speakers and amplification, though, as there's no companion audio outputs.  Given that the ports are so sunken, however, it seems less likely that owners will bother repeatedly plugging and unplugging. 
For presenting a straightforward solution to a docking dilemma, the i-Station25 deserves credit.  However the merely average audio output – especially when you take into account the small price difference between this and the i-Station Rotate – and the buried ports take off some of the shine.  The Logic3 i-Station25 is available now, with an MRSP of £69.99 ($98).
Logic3 i-Station25 Unboxing:
[vms 5b6ab9dcf8d3b5c6e0b0]