Logic3 i-Station Rotate iPhone speaker-dock review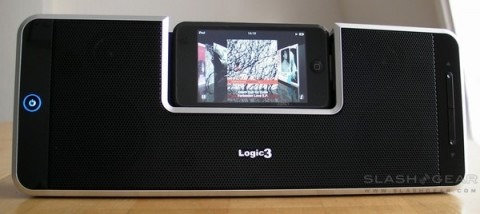 Speaker-docks used to be a straightforward proposition: take iPod (for the majority pander to Apple's audience), slot into cradle, enjoy louder music with no need for headphones.  The arrival of video content, particularly in the orientation-flipping iPod touch, iPhone and iPod nano 4G, demands new accommodation from speaker-dock manufacturers, and Logic3's i-Station Rotate steps up with one of the more engineered approaches SlashGear have seen.
Unlike the Logic3 i-Station25, which physically rocks onto its side to enable landscape viewing, the i-Station Rotate has a more complex mechanism whereby the iPod itself slides to the right and then swivels down, filling – in the case of the iPod touch and the iPhone – the recessed bay.  In doing so the accelerometer in each PMP automatically flips the screen orientation, making it ideal for watching movie and TV show content.
Logic3 provide a number of different cradle-guides in with the i-Station Rotate, to suit all manner of iPods and iPhones.  Each slots onto the sliding dock section, though we found them perhaps too easy to knock off.  If you regularly switch between iPod models, or more than one person wants to use the i-Station Rotate with their own iPod, this could be useful; however, coupled with an overly-tight fit with the adhesive InvisibleShield skin on our iPod touch, we found the guide more often ended up clinging to the removed iPod than it did the speaker-dock.
Thankfully sound quality made up for the few design flaws.  The 10W amp and combination of two 50mm mid-range speakers and two 22mm tweeters proved surprisingly effective.  We'd prefer to have seen some more granularity in volume steps; the ideal point between "just too quiet" and "just too loud" seemed impossible to find at some points.  However it punches well above its price, and has none of the muffled audio or weak bass many rival systems suffer.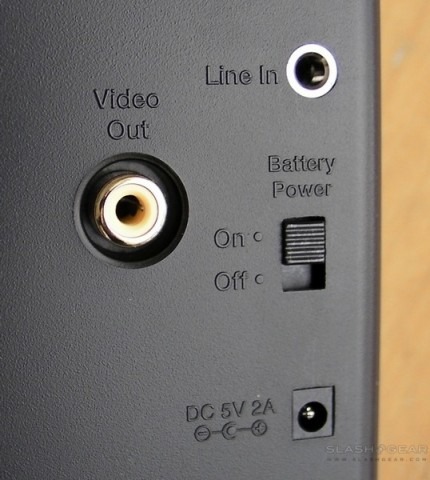 A composite video-out connector allows video content to stretch its legs on a bigger display, although you'll have to be content with the i-Station Rotate's audio output as the video-out lacks audio counterparts.  What you do get is a 3.5mm line-in socket, handy for non-Apple PMPs or laptops with weedy speakers, and Logic3 even throw in the necessary cable.
Controls on the i-Station Rotate itself are minimal, limited to a hardware power switch on the rear and a standby button on the front.  There are also volume up/down buttons, which over-ride the iPod's own volume control.  Everything else can be managed from the included remote, a slim, narrow affair with basic play/pause and skip keys, volume and mute, together with menu & select buttons, up/down controls, standby and a "video output" key that toggles the component output on and off.  Power for the remote is from a single button battery, included, while the speaker-dock itself uses either the bundled AC adapter or four AA batteries (not included).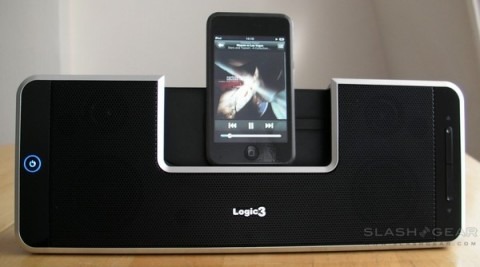 Watching large amounts of video on an iPod touch or iPhone screen can be a shortcut to poor eyesight and possible headaches, but if you're determined to do so the Logic3 i-Station Rotate is a very clever way of doing so.  Meanwhile its speaker credentials are impressive, and the ability to run the Rotate from batteries does make it suitable for entertaining backseat passengers in the car.  The slight frustrations we experienced with the cradle-guides are unlikely to be so troublesome for those without non-removable adhesive cases on their PMPs, though the relatively loose fit of the guides themselves could grow annoying.
Still, judged for its core purpose, the Logic3 i-Station Rotate succeeds by virtue of its above-average audio performance, while nifty accommodations for video and little price premium above less intelligently-designed rivals are icing on the cake.  The Logic3 is available now, with an MRSP of £79.99 ($112).
Logic3 i-Station Rotate Unboxing:
[vms 5b6ab9dcf8d3b5c6e0b0]