Logic3 i-Station 25 and i-Station Rotate: Video Unboxing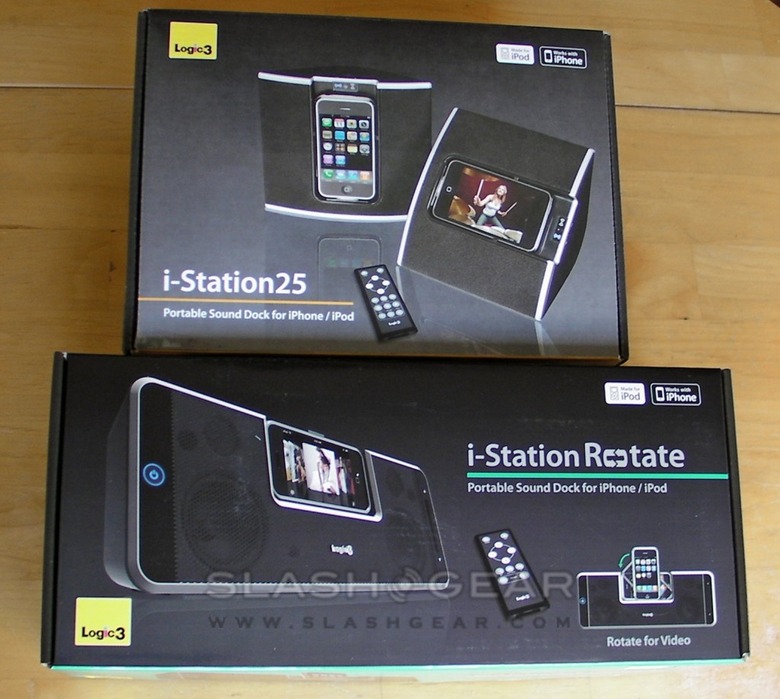 Speaker-docks for Apple's iPod range are big business, but users are expecting more than just music out of their audio accessories, they want video too.  Logic3's i-Station 25 and i-Station Rotate both offer audio playback, but also tackle video playback too, though in slightly different ways.  The 25 takes a simple approach, rocking onto its side for widescreen video from your iPod touch or iPhone; meanwhile the Rotate is more advanced, with a swivelling cradle section that rotates 90-degrees.   
Full specifications and Unboxing Video after the cut 
In each of the boxes, there's the speaker-dock itself, an IR remote control with button-battery, a 3.5mm stereo audio cable to plug in a non-Apple PMP or other gadget, an AC adapter and regional power plug modules.  The i-Station Rotate also comes with various dock adapters.
Each also has a video-out socket, so you can hook up a TV or other monitor.  We'll have the full review of both Logic3 speaker-docks soon, but until then enjoy the unboxing video!
[vms 5b6ab9dcf8d3b5c6e0b0]
Logic3 i-Station 25 specifications:
Watch music videos, movies & podcasts in portrait or landscape mode
Accelerometers to ensure correct L & R sound output when the i-Station is placed on its side.
High performance speaker system for iPhone & iPod.
Watts RMS power output ( 2 x 4W per channel )
Composite Video Output for connecting to TV
Remote Control to operate Speaker & simple functions of iPod.
Operates using an AC Adaptor (Included) or 4 x AA Batteries
Stereo Line-in Cable for playing other audio devices including iPod shuffle, MP3, or CD players.
Volume level display on iPhone / iPod screen & low battery indicator system.
Dimension (H x W x D) 154mm x 170mm x 125mm
Logic3 i-Station Rotate specifications:
Rotating Dock Mechanism to allow Videos to be played on iPhone, iPod touch or iPod nano 4G
Provides charging for iPhone/iPod
TDMA noise suppression technology to remove static when your iPhone rings or when surfing the web
Video Out function for all iPod and iPhone, meaning video's can be displayed directly on your TV
Remote control with iPhone/iPod Menu navigation
10W Audio output power (5W + 5W RMS) and Class D Amplifier for superb sound quality at high volume
Speaker drivers: 1 x 50mm Mid range driver + 1 x 22mm tweeter driver for each Channel
Low Battery Power Indicator System
Volume Level Display on iPhone/iPod
Power Saving Sleep Mode
3.5mm Stereo Line-in for playing other audio devices including iPod shuffle, MP3, or CD players.
Freq Response: 200Hz – 20KHz
Operates using an AC Adaptor (Included) or 4 x AA Batteries
A carry case for safe storage
Unit size : 315 (W) x 55 (D) x 120 (H) mm