Livescribe 3 Smartpen Lands In The UK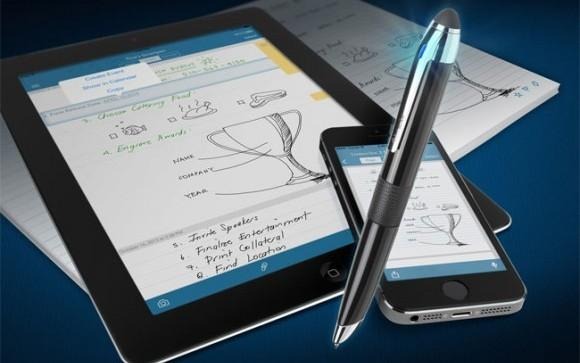 There are lots of reasons that people might need to take hand written notes. You might need to record minutes for a meeting at the office, or perhaps you need to take study notes for a class at school. One of the best ways to take those handwritten notes if you also use mobile devices or a computer is with the Livescribe 3 pen.
The Livescribe 3 pen is a smartpen that can record your handwritten notes and transcribe them into digital format allowing you to archive them. The pen works with special Livescribe dot paper and pairs with an app running on iOS devices via Bluetooth Smart.
The Livescribe 3 also has an integrated microphone that allows it to record interactive pencasts in the form of recorded lectures or meetings. The handwritten notes with the pen can be converted to create tasks, reminders, contacts, and calendar events on the smartphone. The notes recorded with the pen can also be easily shared.
Sharing options include PDF files via email, Dropbox, Messages Evernote, and more. The handwritten notes can be augmented with photos or drawings done by hand. The Livescribe 3 smartpen launched in the US back in October and the company has now announced that the smartpen is available in the UK vi Amazon, Apple, and other retailers. Two versions are offered with the standard edition selling for £129.99 and a Pro version selling for £169.99. The Pro version includes a leather portfolio and a year of Evernote Premium service.
SOURCE: Livescribe