Live Luggage unveils powered 2012 sports bag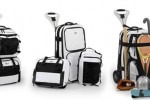 Most of us can relate to the literal and figurative pain that comes from schlepping massive suit cases through the airport and around hotels when we travel. If you are a big sports fan, moving all that heavy sports gear around the field is no fun either. Live Luggage has offered a powered suitcase for the traveler for a while and the company has now announced a new powered sports bag called the 2012.
The new 2012 Sports Bag is a multifunction luggage system that includes a weekend bag for gear like ski boots, a multipurpose rucksack, and a main case that zip together and come apart for flexibility. The rucksack has a padded area for your MP3 player and more. The main feature of the 2012 sports bad is the battery assist.
The battery inside the bag will help propel the suitcase for up to 1.5 miles on a single charge. The internal battery recharges like a mobile phone would. The suitcase will come in black with a yellow logo or white with black trim and will sell for £445.