Live at the AT&T Developer Summit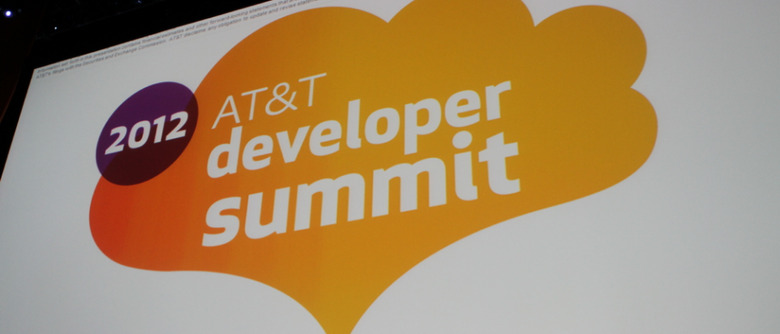 The SlashGear team is live at the AT&T Developer Summit at CES 2012. Here is where we expect to see some awesome and impressive new things from AT&T. From Smartphones, tablet, and of course 4G LTE. We can't forget the mention that Samsung Galaxy Note that has leaked on more than a few occasions.
As the summit gets under way we can expect more than just devices. The developer platforms was one of the first of its kind from AT&T and they've continued strong since. From gaming, smartphones, mobile data connectivity and more we can expect to see a little of everything from AT&T.
Now lets mention a few devices we can expect to see. First off the Samsung Galaxy Note. Samsung's 5.3" smartphone tablet hybrid that took IFA by storm. A few key differences are the 4 standard capacitive touch buttons usually seen here in the USA, instead of the single larger home button as international models have seen. AT&T's model will also feature a 1.5 GHz dual-core Qualcomm processor. We are still waiting for details on whether we'll have 4G LTE on board or not — and as soon as we hear we'll update with additional details.
Pantech has also announced a new 4G LTE device in the Pantech Element 4G LTE tablet. Pantech has released plenty of budget-friendly devices in the past and the recent leaks suggest a $300 price range for the new Pantech LTE slate.
HTC is also set to debut a new device and we are hearing a few whispers that it will indeed be a new 4G LTE Windows Phone .5 Mango device. The summit has just started and we are taking it all in as we go. As soon as everything wraps up we'll be sure and announce anything and everything from AT&T, Samsung, Pantech, HTC and whoever else appears.
Stay tuned for hands-on pictures and video from the AT&T Developer Summit and SlashGear.