littleBits Smart Home Kit is a home upgrade arsenal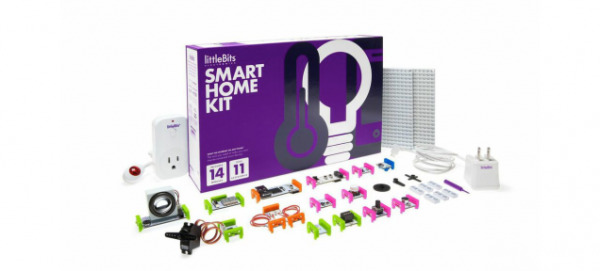 The idea of a smart home might strike your fancy, but a quick look at the products available mightn't sway you. There seems little reason to ditch some of your existing hardware just for the privilege of controlling it with your smartphone, so you plod on another day subjecting yourself to manual light switches and dumb coffee makers. LittleBits wants to solve your problem, and it is doing so by putting up for pre-order its Smart Home Kit comprised of hardware pieces for a do-it-yourself connected home.
LittleBits promises its kit can turn any object into a smart object with a little elbow grease. The Smart Home Kit features 14 modules including things like a sound trigger, light sensor, IR transmitter, button, servo, and temperature sensor, as well as 11 accessories including a couple mounting boards and a screwdriver. With these users are given the opportunity to automate their existing appliances.
This also gives users the opportunity to create things that they might not otherwise be able to find pre-made. One example is featured in the video above, where the modules are used to count the number of barks from one's dog, and if it exceeds a certain number, to send a notification to one's smartphone that something might be up.
While the modules will require a bit of DIY know-how, each bit connects together with magnets to keep things simple and there's no programming necessary. The Smart Home Kit is priced at $249, and can be pre-ordered from littleBits' website. Shipping is set for December.
SOURCE: Gizmodo