Litelok bicycle lock makes security lightweight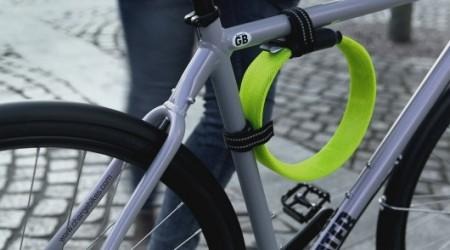 If you commute by bicycle, the odds are high that you've invested in a nice bike...which means you've also invested in a nice lock to help ensure someone doesn't nick it while you're in the office. Good bike locks are usually heavy bike locks, however, otherwise a pair of bolt cutters make them just about as useless as no bike at all. One company wants to free cyclists from the burden of heavy bike locks, however, and so it has developed the Litelok, a lock that is exactly what it sounds like: lightweight.
Litelok is lightweight, flexible, and was designed by an industrial designer named Neil Barron. The lock is made from layers of materials that form a composite being called Boaflexicore, and it is said to be strong enough to handle attacks from hacksaws, cable cutters, and bolt croppers.
The weight comes in at under a kilogram, and it can be snapped closed sans a key. The flexible nature allows it to be used in places where a rigid metal bike lock might not work — the Litelok is 29-inches in length, and is said to meet both British and international lock standards.
The creator behind Litelok is seeking £20,000 on Kickstarter, where it has just exceeded that with £20,997 currently in pledges. You can get the lock for yourself, assuming all goes as planned, with a pledge of £80, which will get you a single Litelock in Boa Green, as well as two WristStraps and a couple keys. Shipping is estimated for August.
VIA: Gizmag