Liquipel 2.0 smartphone water protection coming to a mall near you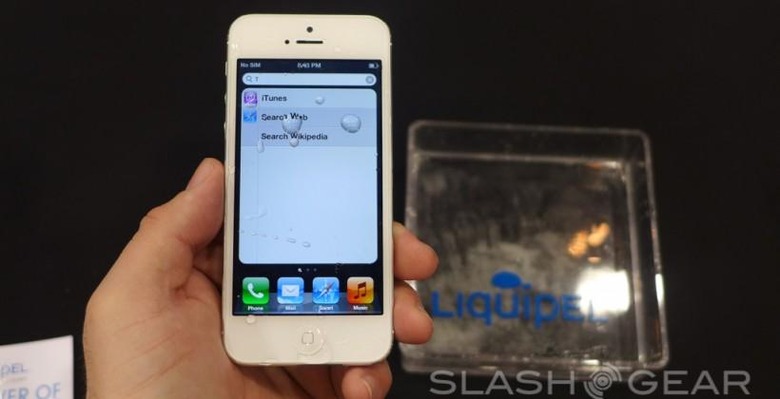 We've all had or seen that terrible moment where someones shiny new smartphone falls into the toilet, pool, lake, or sink. While there's many different technologies available today to protect and water-resist our favorite devices Liquipel is among the best. We first saw them last year at CES to great fanfare, but at CES 2013 they've announced Liquipel 2.0 — and it's coming to a mall near you.
What makes this type of water protection for smartphones and tablet unlike anything else available is the fact that it coats the entire device, electronics inside and all. The entire device is protected on a molecule level with an invisible to the eye Liquipel coating. This certainly isn't cheap, and requires users to send off their device for treatment. Today they've announced that will soon be changing.
Liquipel 2.0 is a brand new treatment for smartphones like the iPhone 5 that adds a nano-coating though a propriety process. This process starts by tossing your device into the chambers of a Liquipel Machine. The process removes the air inside the chamber to create a vacuum. Then the special Liquipel formula is introduced in vapor form.
"The Liquipel coating permeates the entire device and bonds to it on a molecular level leaving it watersafe for years to come."
Liquipel states their new 2.0 is 100x more effective, although their first and original product was pretty impressive to begin with. In the end the result is a product that will be watersafe nearly for the entire lifetime of the device. The awesome news today however isn't 2.0, it's that this awesome process is coming to a mall nearest you later this year and throughout 2014. The first retail location West Edmonton Mall, will start treating devices like the iPhone 5 and Galaxy S III for $60 and will be located in Edmonton, Alberta, Canada. Stay tuned for more details.