Liquid-Cooled Desk PC mod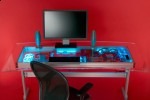 Desk PC mods are relatively rare, but not unseen, but they generally aim to discretely hide the computer into the furniture.  Popular Mechanics' version, however, puts everything very much on show: a water-cooled Intel quad-core PC sandwiched inside clear acrylic and bolted to a custom aluminum frame.
Full hardware specs include an XFX 790i Ultra SLI motherboard, 4GB of Kingston HyperX DDR3 memory and a 3.0GHz Intel Core 2 Quad processor.  There's also twin 300GB 10,000rpm VelociRaptor hard-drives, a PaLit GeForce GTX 280 video card, Sony BDU-X10S Blu-ray drive (which ejects upward) and a custom Synaptics flush-mounted transparent touchpad with proximity sensor and light. 
The team building the desk even decided that the glycol water-cooling wasn't eye-catching enough, and so slapped six blue neon bars and seven glowing exhaust fans inside, pushing up the power requirements until only a kilowatt PSU could suffice.  No word on how much they spent in total, but we're imagining it the price was as excessive as the end result.
[via Gizmodo]