Lionhead Studios Moves Right Along and Announces Fable III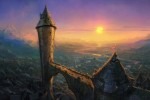 Fable II has grown to be the best-selling Role Playing Game (RPG) on the Xbox 360 (was that really a huge endeavor?), but Peter Molyneux and his Lionhead Studios are not going to rest on their laurels. They're hoping that all the Fable fans out there are ready for more, or at least will be by the holiday season 2010, because the next installment of the critically-acclaimed series is headed to store shelves next year. And Lionhead has a few changes coming.
For the most part, Fable and Fable II were the same formula: you are a warrior, and your decisions will affect the future. While the second installment greatly increased the feature-set (everyone wanted a dog, right?), Lionhead Studios knew they had to do something to change things up for the third chapter, and that's exactly what they've done. "We've spent a lot of time at Lionhead thinking about how we can innovate the game play and progress the world of the Fable games for its third chapter, and we're confident that players won't second-guess what we have planned for Fable III," said Molyneux, who also serves as creative director of Europe, the Middle East and Africa for Microsoft Game Studios. "Though I can't give too much away right now, players should expect to have to make tougher choices with far wider consequences than ever before in Albion — and with many more interactive adventure elements."
In the third installment, it looks like players will be taking on more of a leadership role. The main character is the son of the hero from Fable II, and is set five decades afterwards. You'll rule your kingdom as either a king or queen and be called upon to make choices and sacrifices that will forever alter the lives of those in your kingdom. The traditional themes of leadership on such a grand scale are meant to make the player feel like their decisions will ultimately unite or divide a populace. So with these changes, it looks like Molyneux and Lionhead Studios are taking the next logical step for the main character, but is it going to be worth it? And, will they end up changing the overall game play mechanics? It might be strange to play as we have, if we're supposed to be ruling on a grand scale. Only time will tell, so keep your eyes peeled.
[via Microsoft]