Linutop 2 is the perfect lightweight Linux desktop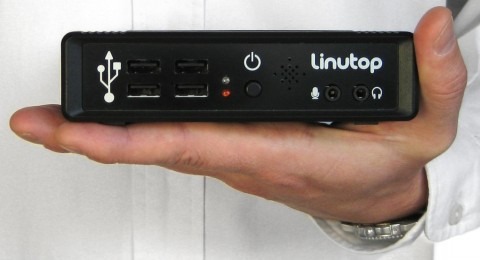 This newest version of the Linutop ups the processor to a 500MHz Geode, it also has a half gig of RAM and a gig of flash storage. Even better yet, there is a VESA mounting bracket built into the thing so you can mount it to your favorite LCD monitor.

This thing would be perfect for kiosks or for low-end computing or for just surfing the internet. The low power requirements (8 watts) and low weight (20 ounces) make it perfect for taking with you on the go, or even in third world countries where electricity might not exactly be "abundant".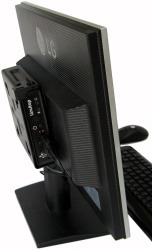 It measures in at 14x3.5x14 centimeters, has 4 USB ports, headphone and mic jacks, an Ethernet port, VGA adapter and line out as well as a +12V power plug, which I believe means you could feasibly stick it in your car if you wanted to. When you purchase it, the 1GB of flash has an Xubuntu LiveCD installed on it however you could run a persistent installation off of a USB flash drive if you wanted to or even run PXE Boot for running it as a Thin Client further expanding the uses of this amazing PC. The only downside is the fairly outrageous price of $410.
[via linuxdevices]