Lincoln Aviator is a 3-row SUV previewing brand's future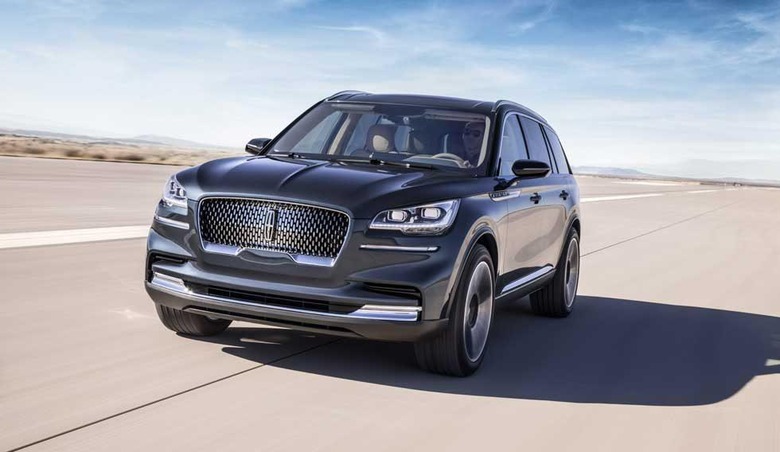 Lincoln is showing off its Aviator SUV this week in New York. The new Aviator is the newest vehicle in the Lincoln line and gives a glimpse into the future of the brand. Lincoln promises beauty and elegance from the SUV along with the smoothest drive yet.
The Aviator is a 3-row SUV and the teaser model seen here is a plug-in hybrid. The vehicle is a rear-wheel-drive platform and the vehicle has aviation cues to match its name. On the outside of the show car is a paint color called Flight Blue with high-gloss back and chrome accents.
Owners of the Aviator will be able to use their smartphone as a key. This will allow users to lock and unlock, open the trunk, start, and drive the vehicle with no smart key fob needed. The interior has lots of beige leather along with premium looking black bits. The Perfect Position seats have 30-way adjustability and massage. The second-row seats can recline and slide forward for the third row.
Lincoln integrates wireless phone charging into the front armrest. Aviator has multiple power outlets inside and WiFi is standard. The engine is a twin-turbo unit and can be paired with the plug-in hybrid tech. The interior has a 12-inch standard cluster display that is user configurable.
Aviator is also getting Lincoln Co-Pilot360, something that will find its way into other Ford vehicles. Aviator also has Reverse Brake Assist to provide automatic braking if an object is encountered behind the vehicle. SYNC voice control is integrated.
[GALLERY]
SOURCE: Lincoln