Limited Galaxy Note 20 Mystic Red, Galaxy Z Flip 5G Mystic White arrive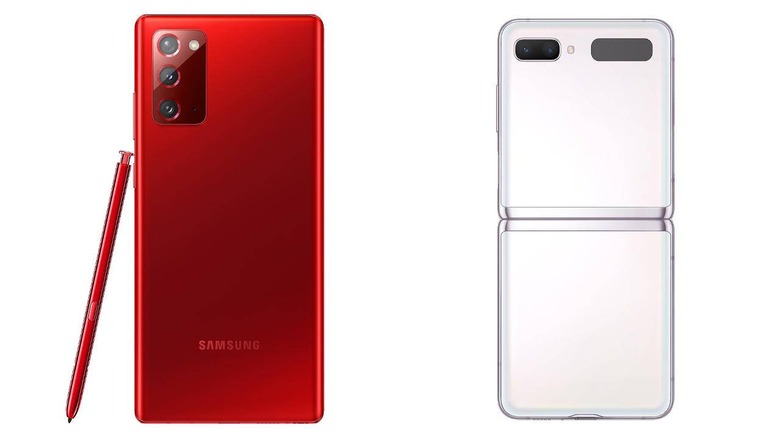 We may receive a commission on purchases made from links.
There used to be a time when you could easily change your phone's back colors and design without having to slap on a case or peel off a sticker. These days, you're often stuck with what you first buy, especially with a foldable phone with more limited options for cases. The color choices for Samsung's latest flagships are, unfortunately, not that varied at all but, at least for a limited time, the Galaxy Note 20 and Galaxy Z Flip 5G each get one new color for buyers to pick.
Bronze is Samsung's color for 2020 so it isn't surprising that both these phones at least that one "unconventional" color in common. They both do have Mystic Gray, which might be what some prefer to keep their phones looking discreet and unassuming.
The same can't be said about the Galaxy Note 20 in Mystic Red, though, which might be attention-grabbing just by its color. It won't sear yours or other people's eyes, thankfully. Though given how other manufacturers have dabbled in psychedelic gradients, this, too, almost looks subdued.
Few people will go for white these days, which will make the Mystic White Galaxy Z Flip 5G stand out just as much. As if it's clamshell design doesn't already call people's attention, whether or not they know it's hiding a flexible screen inside. Nobody makes flip phones these days anymore, not unless you're Samsung or Motorola.
Samsung is offering these new colors for the same price as their original counterparts, $1,400 for the Galaxy Z Flip 5G and $1,000 for the Galaxy Note 20. Fortunately, all discounts and deals also apply, so you might be able to grab one for a lower total. That said, Samsung apparently made only a small number of these models so they are available only while supplies last.