Limited edition Xbox One X taps Nike and Madden just in time for Super Bowl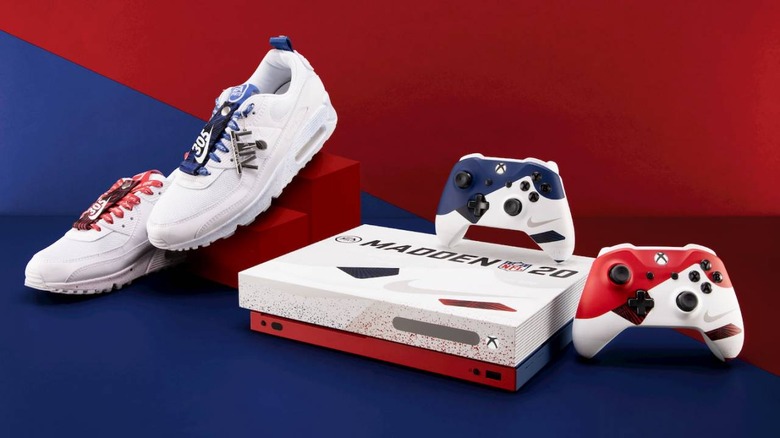 Perhaps more than anyone, Microsoft loves its limited edition consoles, so with the Super Bowl quickly approaching, it probably shouldn't be surprising to see a new Xbox One variant. This one is the result of a team up between three companies: Microsoft (obviously), EA, and Nike. The result is an Xbox One X that carries Madden NFL 20 branding and features a design based on Nike's special edition Nike x Madden NFL 20 Air Max 90 shoes.
The Xbox One X itself is mostly while, with a red base and red and blue specks on the front of the console. On the top, we've got that aforementioned Madden 20 branding next to the familiar Nike swoosh, with red and blue patterns that appear on the snaps of the Air Max 90s.
The controllers sport similar red and blue color schemes, showing the same patterns we see on the console and the swoosh as well. If you like red, white, blue, and football, this could very well be the console for you (assuming, of course, that you're also in the market for an Xbox One X).
Unfortunately, it doesn't seem like you'll actually be able to buy this console. Microsoft's announcement today doesn't say anything about when the console will be available to buy, only mentioning a giveaway that kicks off today at 8:00 AM PT and runs through February 8th at 7:00 PM PT. To enter, you'll need to retweet the Xbox contest tweet – which doesn't appear to be live at the moment – and use the #NikeMaddenNFL20XboxSweepstakes hashtag (which is quite the mouthful) when you do.
Once the entry period is over, one person will win a pair of these new Air Max 90s, along with the Xbox One X, a pair of controllers, and a copy of Madden NFL 20. If you're planning to enter the giveaway, good luck, because it seems like that'll be the only way to snag this console.