Limited Edition World of Warcraft Keyboard makes playing easier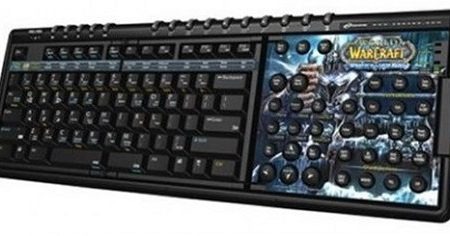 We may receive a commission on purchases made from links.
If you play World of Warcraft, you're probably already pretty excited that the Wrath of the Lich King expansion pack came out today. But now you can amp up your gaming efforts even more with the Limited Edition World of Warcraft Keyboard. Actually, it's called the SteelSeries Zboard Limited-Edition Wrath of the Lich King Bundle with Zboard Keyboard, Keyset, and Standard QWERTY Keyset. Yeah, WoW keyboard sounds better to us, too.
So you can set hot keys when playing WoW on a standard keyboard, but it can be difficult to remember what you set the comma to do as opposed to the hyphen. To avoid this confusion, this keyboard has specific keys to make it easier for you. For instance, there are keys for Raiding, PvP, macros and more.
There are also color-coded keys for easy identification. You're allowed up to 7 keystrokes at once. Yeah. That's a lot, I know. But for those hardcore Warcrafters, this should be great news. Sounds pretty cool to me. And it's designed to match up right with your Lich King expansion pack. You can get the keyboard now on Amazon for $69.99.