Limited edition Evangelion smartphone gets Japan-only release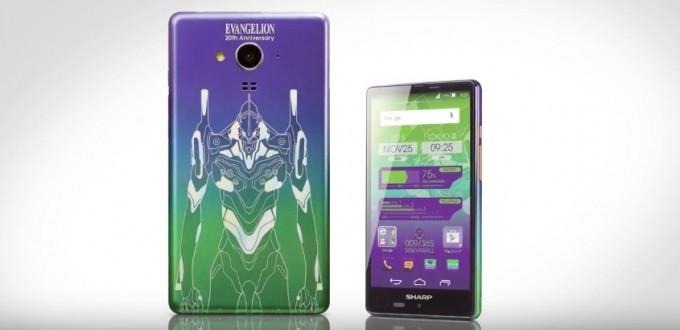 This year mark's the 20th anniversary of the extremely popular anime Neon Genesis Evangelion in Japan, and that means the product tie-ups and promotions have been almost non-stop this year in the country. The latest item is an Evangelion-themed Android smartphone from Sharp, and with only 30,000 units being produced, fans need to sign up for a chance to buy one at Japan's 7-Eleven stores. With the extremely dedicated following the series has in the country, there's no doubt that these phones will be snatched up almost immediately.
Dubbed the SH-M02-EVA20, the device will cost 84,240 yen (about $705). Along with a purple and green metallic paint finish, the phone features a white image of Unit-01, the mech piloted by Evangelion hero Shinji. Continuing the Unit-01-inspired design are orange accents like the power and volume buttons on the side, a custom purple and green Android skin, and a matching case that mimics the look of the mech's armor.
As for the phone itself, it won't be the most power Android device Japan has seen, but its specs are hardly what Evangelion fans will be drooling over. Running Android 5.0, the Sharp-made phone has a 5-inch, 720 x 1,280 HD display, a 1.2GHz quad-core Snapdragon chip, 2GB of RAM, and 16GB of internal storage with support for up to 32GB microSD cards.
Other details Evangelion die-hards will geek out over are 365 custom wallpaper images that change each day, and original audio notifications in the form of characters' voices, all recorded with the original cast. The first 5,000 units should be available in December, while the rest will ship in April 2016.
SOURCE 7-Eleven (JP)
VIA Engadget