Lilium Jet all-electric five-seater air taxi takes its first flight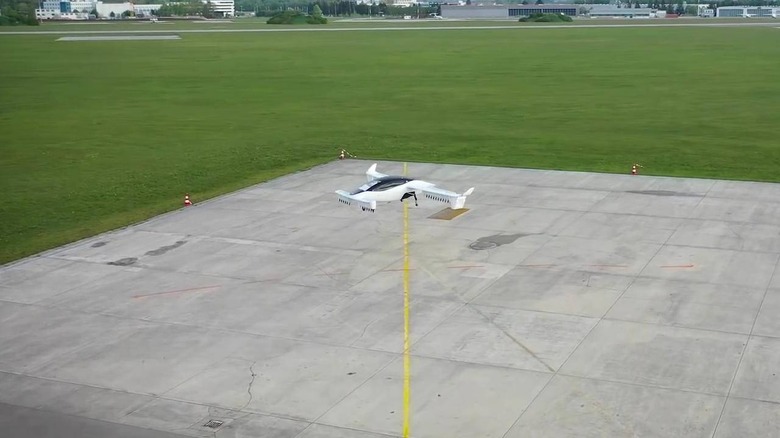 All the fuss around foldable phones and tablets and even self-driving cars may have taken the attention away from the other holy grail of transportation. Lilium, however, is trying to get the spotlight back on that stage, specifically the vertical take-off and landing (VTOL) stage. Building on the prototype it successfully flew two years ago, the German startup is proudly proclaiming that is has delivered what it promised back then: a five-seater version of its unique air taxi jet.
The Lilium Jet, in both two-seater and this new five-seater incarnations, are unlike any VTOL vehicle you may have already seen. As the company describes it, it has "no tail, no rudder, no propellers, no gearbox and only one moving part in the engine". This lack of parts and its unique design contribute to not only reducing the weight of the craft but also requiring less power to keep it afloat.
Last May 4, the new and expanded Lilium Jet took to the skies for the first time. It wasn't a full, manned flight, the vehicle being remotely controlled from the ground. It did, however, prove that the company's design, with 36 engines, worked for an increased capacity of passengers.
The ultimate goal is for the Jet to fly at a speed of 300 km/h and a range of 300 km. The all-electric vehicle will have zero operating emissions and its unique design would allow it to consume only 10% of its maximum 2,000 hp while cruising in the air. Its sparse components also allowed Lilium to provide more space in the passenger cabin, include panoramic windows, and use gull-wing doors.
Lilium, of course, envisions these Jets to drive, no pun intended, future on-demand air taxi services. That has been one of the biggest dreams in the transport industry but, so far, it hasn't taken off just yet.