Lightweight origami shield unfolds quickly to stop bullets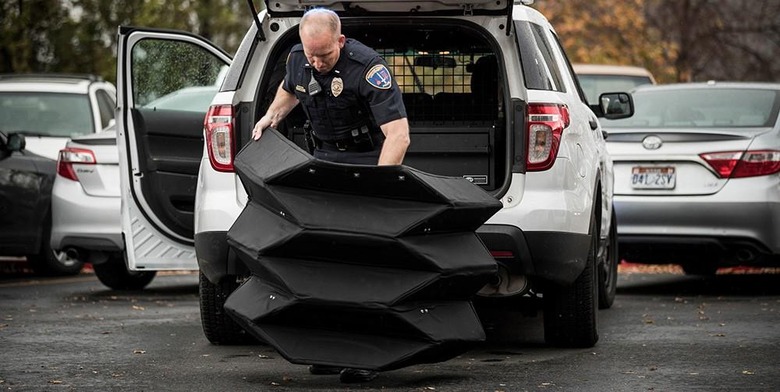 Engineers with Brigham Young University have developed a new type of foldable bulletproof shield called the origami shield, and it aims to keep police officers safe from handgun bullets without being too burdensome or difficult to deploy. The shield is made using a dozen layers of Kevlar material, as well as an aluminum-based frame that allows the shield to fold down into a small, compact size. When needed, an officer can open the shield with a single tug.
Bulletproof shields aren't a new concept, but existing models are very heavy, coming in somewhere around 90 pounds, and they're also limited to use by a single person. The new origami shield from BYU addresses both those issues by shaving about 40lbs off the weight and offering a design that's large enough to shield multiple people. It is designed to protect against handgun bullets specifically, and proved successful in doing so during testing.
The team determined that 12 layers of Kevlar are needed to stop bullets from penetrating, while the design itself is inspired by a particular origami fold called the Yoshimura crease pattern, a way to fold a large sheet into a very compact and flat package that can be unfolded again in only a few seconds.
As the video above shows, the shield can be folded and slid underneath a large car seat or placed in the back of a car. When needed, an officer could pull it from the vehicle and then lift it upward, unfolding the creases and locking them in place.
The shield is somewhat rounded, adding side protection, and is large enough for a couple people to hide behind. Despite its relatively lightweight design, the shield was able to stay upright when hit with powerful bullets, including being shot with a .44 Magnum pistol.
SOURCE: BYU