Lifeproof's iPhone 5 case has been on the market for around a month now, so by now, a number of people are keeping their shiny new iDevice safe behind the company's handy little barrier. Here at ShowStoppers 2013, however, the company is revealing a number of new accessories for its iPhone 5 case, with the offerings ranging from strange to practical. For instance, how do you feel about making your iPhone 5 a little more buoyant?
With the Life Jacket accessory, your iPhone 5 will actually float. That has to be a handy little feature for those who take their device out on the water, though we do feel like we should point out that such an accessory sort of undercuts the waterproofing Lifeproof's case brings to the table. In any case, with the big orange Life Jacket wrapped around your phone, you don't have to worry about it sinking to the bottom of the lake or sea should your device go overboard.
Other accessories announced today include more standard fare, like an arm band, bike/bar mount, car mount, and belt clip. These are all relatively self-explanatory, with the arm band giving you a way to run or jog with your encased iPhone 5. The bike mount naturally allows you attach your iPhone 5 to your bike, though Lifeproof's representatives also suggested that new mothers could use it to attach their phones to a baby's stroller. Finally, the car mount is about what you'd expect – a suction cup that you can attach to your windshield or dashboard.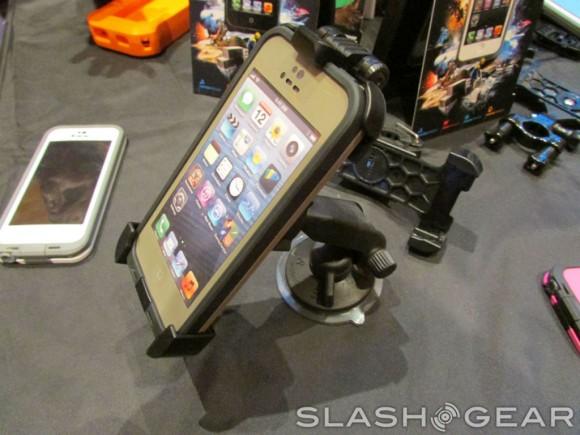 It wasn't all about iPhone 5 owners though, as Lifeproof also took time at the show to announce a new case for the Galaxy S III. Like the company's case for the iPhone 5, the Galaxy S III case will be waterproof up to depths of 6.6 feet, dirt proof, and shock proof from heights of up to 6.6 feet. Expect to hear more about these accessories and the incoming Galaxy S III case soon. Check out our CES portal for much more from this years trade show!