Lian Li unveils PC-Q07 Mini-ITX Case with full ATX PSU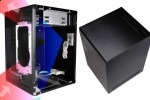 We've seen some unorthodox Lian Li's concept in the form of sea shell and billowing sail, those were standard size PC cases; their latest creation, PC-Q07, takes on Mini-ATX platform with oversized chassis to accommodate traditional full sized components.
The new Lian-Li hairline-brushed all aluminum Mini-ITX stands at 11-inch tall. Its mini fridge like design is rather unconventional, not eye pleasing in any ways, but internal space is roomy for the support of full size components. The Mini-ITX board fits on the side panel while the back has mounting brackets readied for a full size ATX PSU. Unit comes supplied with easy installation kits to allow a 5.25-inch optical drive, and a pair of 3.5-inch and 2.5-inch hdd mount effortlessly with anti-vibration grommets and tool-less mounting screws on the system.
The Lian Li PC-Q07 is available now for a suggested retail of $69.
12 February 2009, Keelung, Taiwan – Lian-Li Industrial Co. Ltd has launched the PC-Q07 Mini-ITX chassis. The black hairline-brushed all aluminum PC-Q07 allows for the Mini-ITX platform motherboard to be combined with traditional full sized components, thus saving you money and giving you the option to utilize components from a system you already have. Designed to be passively cooled, with strategically placed innovative air vents make it both silent and safe. The small chassis can fit snugly in any environment. The PC-Q07 is definitely worth serious consideration for building the ultimate ITX platform. Ideal for System Integrators looking for money saving, high quality solutions.

PC- Q07 Mini-ITX Specifications

Standing at 193mm x 280mm x 208mm (W,H,D), the aluminum chassis has a reversible PSU bracket which allows the PSU to be arranged as you like. The chassis supports 1x 5.25" Optical drive bay with 1x 3.5" HDD bay and 1x 2.5" HDD bay. In addition, strategically placed air vents enable passive cooling to effectively keep your system optimal. The entire case weighs in at 1.1kg's.

PC-Q07Special Features

The PC-Q07 has easy installation kits for the 5.25" optical drives, as well as for the 1x 3.5" HDD bays with anti-vibration kits, as well as room for a 2.5" drive underneath. The internal space is ideally arranged to keep everything well ventilated without compromising on your hardware thermal requirements. The small profile, incorporating traditional desktop components within the ITX platform makes the PC-Q07 the most attractive and innovative ITX chassis available.

Perfect for System Integrators (SI)

The benefit to use full size ATX power components coupled with the Mini-ITX platform makes this unique innovative chassis ideal for those system integrators looking to design a small profile, yet advanced system for their customers. The expense of slim ODD and an ITX PSU or external PSU is completely negated. In addition replacement components can be sourced from standard stocks, without the need to build up a special replacement inventory.

Traditional Durability

The classical style and functional design is the Lian Li goal. The essence of Lian Li products is the craftsmanship of the engineering. Intrinsic to the workmanship and quality is the customization which includes a whole host of optional extras that can be purchased to add more features to an already feature rich product.

For more details on features and extras available for the PC-Q07 please go to the Lian Li website