Lian Li unveils new PC-X500FX computer chassis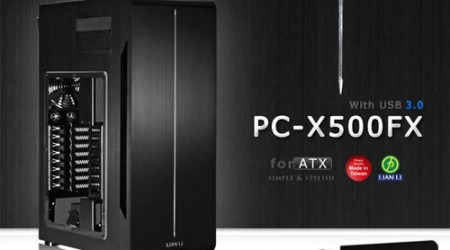 Lian Li makes some of the coolest and most expensive PC cases that you are likely to find if you are building up a new desktop computer. The company has announced a new computer chassis called the PC-X500FX that looks a lot like a case the company already has. More than a lot in fact, it's a virtual dead ringer for the X500 that has been around for a long while.
The case looks fantastic though and is narrower than your typical case and taller so you can still fit your gear inside. The drive bays for optical drives are on the side, which is a bit weird if you like to put your case directly beside your desk. The chassis holds ATCX mainboards.
Where this new case differs from its older doppelganger is in the windowed side panel that allows you to see all your cool hardware inside and the fact that the X500FX sports USB 3.0 ports on top. The case gets three 140mm fans in the back and a pair of the fans in front for a very robust cooling system with a multi zone heat management system. The chassis needs no tools either and has space for up to six HDDs.