Lian Li Unveils New PC-C50 HTPC Chassis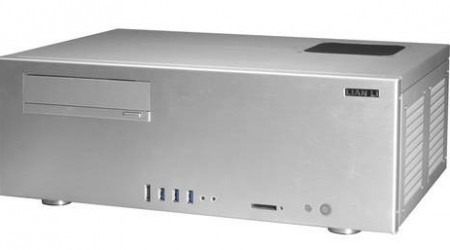 Lian Li makes some of the coolest and most expensive cases for computers that you can put your hands on. The cases are typically among the most well made and best looking cases so in many enthusiasts eyes you get what you pay for. Lian Li has announced a new HTPC chassis called the PC-C50.
The chassis is silver and covered with brushed aluminum on the outside with a horizontal layout perfect for most entertainment systems. The chassis looks more like a home theater receiver than a computer. It measures 445 x 167 x 325mm and can be had in black as well as the silver color in the image.
The case supports Micro ATX, Mini DTX, and Mini ITX mainboards and has modular CD-ROM cage and modular HDD cages. The case also has three USB 3.0 ports, HD Audio, and eSATA ports along with a SD card reader slot on the front of the chassis. The cooling system uses a pair of 120mm fans and inside the case are three 3.5-inch HDD bays and a pair of 2.5-inch HDD bays along with four expansion slots. Pricing is unannounced.