LG, you suck at making washers!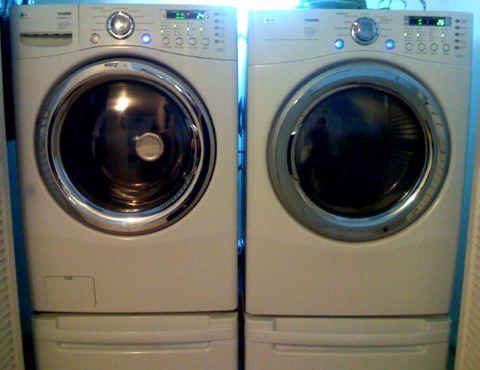 Spending nearly $2,500 for a set of washer and dryer is serious business. While I love LG mobiles, the consumer electronic department is leaving an extremely nasty taste in my mouth.
We bought their top of the line washer WM2487WHM and dryer at Best Buy right before Christmas and they were delivered and setup yesterday. On the day of delivery, the washer would just spin and spin and spin some more without dispensing any water. So I called Best Buy in Tempe, AZ and the manager was kind enough to rush out another unit today. So I thought, way cool – BIG kudos to Best Buy for going above and beyond the call of duty.
https://www.youtube.com/watch?v=EFLCtEwXM98
Well, here's the thing, the second washer, the one I briefly referred to as a piece of crap a$$ washer in the video above — has a great feature. The feature will let you pick any cycle you want as long as you only want the Cotton/Normal cycle. Yep, isn't it great?
So I decided to call LG hoping there was some master switch or combination of buttons I can click on to reset the washer. After being on hold for nearly 25 minutes, customer service came online to tell me that there's nothing they can do except schedule for maintenance. Excuse me, maintenance on the first day out?! Oh, ok thanks for your help.
I then decided to call Best Buy back. Unfortunately Best Buy is out of stock on this model (around town) so the new one is coming in from Flagstaff in about a week. Wahoo! Thanks a lot LG. Your consumer "home" appliance division is now on my sh!t list.