LG Xcanvas bobos 50PQ60D Plasma HDTV with 1bn:1 contrast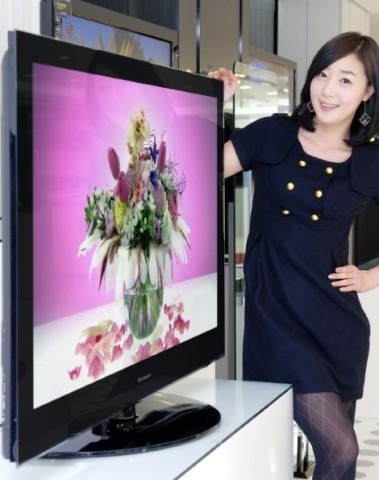 LG Korea have been flaunting their latest plasma HDTVs, the entertainingly-named Xcanvas "bobos" PDP TV 50PQ60D and 42PQ60D. On sale in Korea in twenty days time, the 50-inch and 42-inch sets have incredibly high contrast and response rates, the former being an unbelievable 1,000,000,000:1 and the latter 600MHz. There's also an ambient light sensor that, by automatically dimming the backlight, can save up to 60-percent of the energy the HDTVs normally use.
As well as four HDMI inputs, the 50PQ60D and 42PQ60D both have a USB port that can be used to play audio, image and video files (including WMV and DivX) directly from a memory stick or external hard-drive. The design is all new too, integrating display panel and speakers into one, 76.8mm-thick package.
The 42-inch 42PQ60D will be priced at 1,400,000 Won ($1,022), while the 50-inch 50PQ60D will be priced at 2,000,000 Won ($1,460). There's no word on when – or even if – LG plan to bring the HDTVs to the US or Europe.
Press Release: