LG VL600 LTE modem review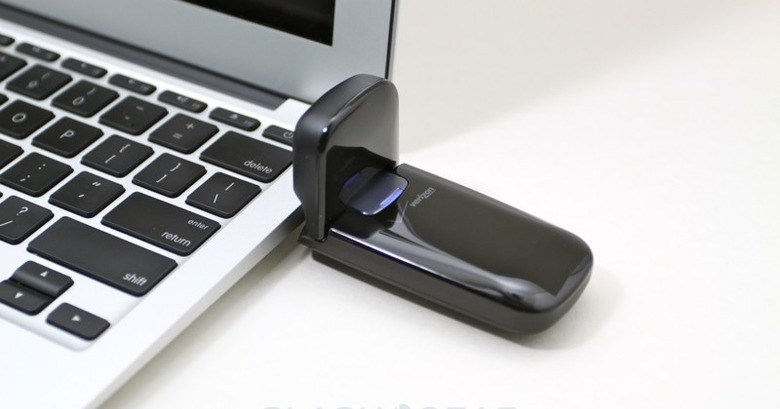 Our initial speed benchmarking with Verizon's LTE service was enough to get us seriously interested in the high-speed 4G network, but there's more to a mobile broadband service than just raw throughput. Has the LG VL600 LTE modem lived up to expectations? Check out the full SlashGear review after the cut.
Hardware
The LG is undoubtedly a big USB modem, feeling oversized in comparison to the thumbdrive-scale 3G versions we're used to seeing. We can forgive the bulk given the combination of 3G and LTE hardware packed inside – unlike some WiMAX modems, the VL600 can roll back onto Verizon's EVDO Rev.A network when LTE coverage isn't available – though if you've a notebook with tightly positioned USB ports you may have issues plugging something in alongside the LG.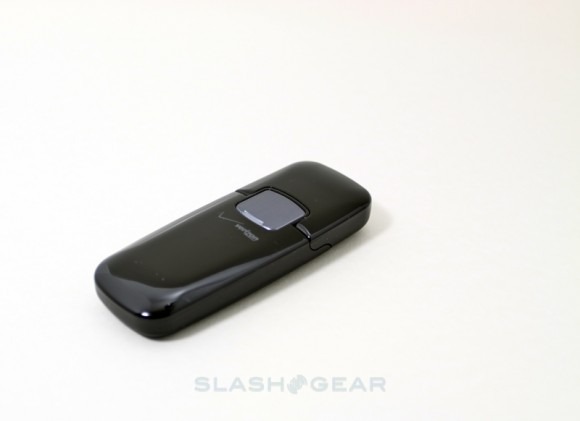 The most likely victims are Apple's MacBook and MacBook Pro ranges, the USB ports on which are closely clustered on the side. Still, at the moment there's no point in hooking up the VL600, since there are no Mac drivers for the modem. Verizon tells us they're "working quickly" to address that, but there's no public timescale for their release. On a PC, we were up and running in seconds, and we've noticed no greater battery drain than with a regular 3G USB modem.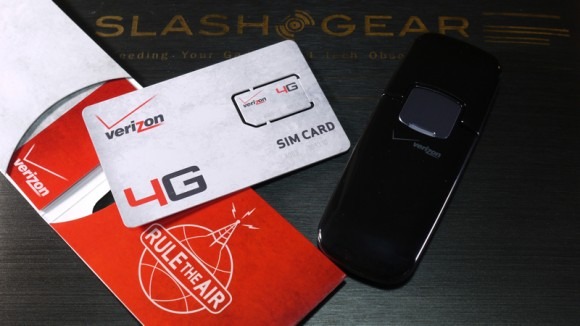 One ongoing frustration was the handover between 4G and 3G. Sometimes the VL600 would switch automatically, other times we had to physically unplug and reinsert the modem before it would transition from 4G to 3G. It was an intermittent problem, and one that hopefully fresh drivers will address.
Performance
Our first impressions of the VL600 were that it offered regular broadband levels of speed, and over our longer testing that's certainly been borne out. Obviously you'll require LTE coverage to get 4G speeds, and right now Verizon claims to be serving 38 markets and over 60 airports. Their aim is to cover their current 3G footprint with 4G by the end of 2013; until then, you can check out coverage here [http://network4g.verizonwireless.com/#/coverage].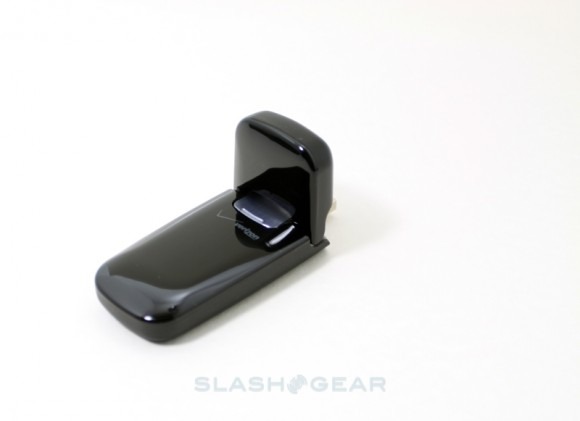 We tested the service in three locations: Phoenix, AZ; Charlotte, NC; and Philadelphia, PA. In Phoenix, the figures generally kept to the top end of Verizon's rough guidelines of 5-12 Mbps downlinks and 2-5 Mbps uplinks, with an average download speed of 12.21 Mbps and a healthy 6.18 Mbps upload speed.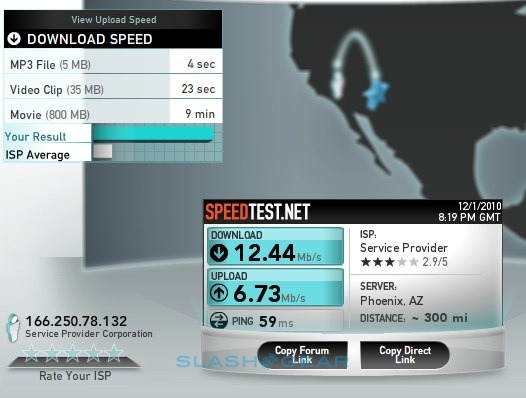 Things improved considerable in Charlotte, with uplinks taking a 100-percent jump according to SpeedTest.net. Downloads on average reached 11.37 Mbps, while uplinks bl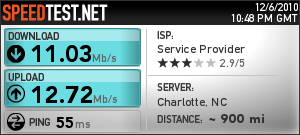 asted to 12.24 Mbps. Ping times were also less variable than in Phoenix.
Finally, Philadelphia, achieving average download speed of 20.92 Mbps, while uplinks were 5.63 Mbps.
Now, it's worth bearing in mind that right now the LTE network is seriously under-utilized, and these speeds most likely won't persist as load increases and more users get online. Still, they're considerably higher than we encountered with HSPA+ and WiMAX in their first bloom, and that bodes well for longer-term performance.
Pricing
Both the LG VL600 and its Pantech UML290 equivalent are $99.99 with a new, two-year agreement. Alternatively, Verizon is offering them at $249.99 apiece contract-free, with the same choice of data plans.
Verizon had originally promised innovative pricing for LTE service, with talk of bandwidth-related tariffs and communal data allowances. We're still waiting for that to happen; the first 4G packages on offer stick to the tried & tested concept of a single monthly allowance and overage fees. There are two plans, one offering 5GB per month for $50, the other 10GB for $80, and a further $10 per GB over those allowances.
That's at the top end for non-unlimited 3G plans, certainly, but when you factor in the high speeds involved with 4G, it's not difficult to burn through 5GB or 10GB in double-quick time. If you're simply checking email and surfing the web then it's not going to be a problem, but realistically that sort of usage pattern is unlikely among LTE early-adopters. We can understand Verizon's caution in the early stages – it's easier to start off conservative and then ease open the floodgates, rather than try to take things in the opposite direction – but the sooner we see more accommodating plans (that offer data bundles which live up to the speeds on offer) the better.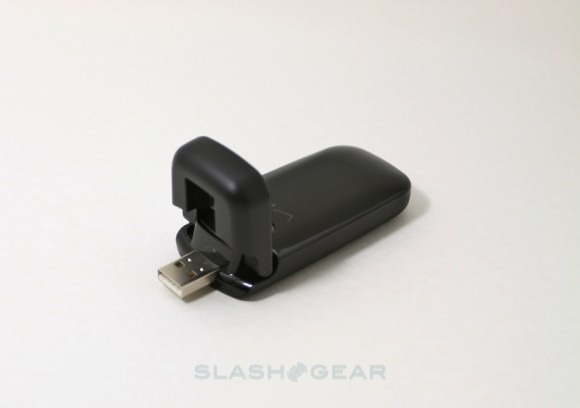 Wrap-Up
There's no denying that LTE is fast, although we'll be returning to benchmark the service in a few months time when the network will presumably be under heavier loading. Still, if you demand the fastest mobile broadband around and live or work in an area with Verizon 4G coverage, LTE certainly lays takes on the challenge set by HSPA+ and WiMAX and rises to it admirably.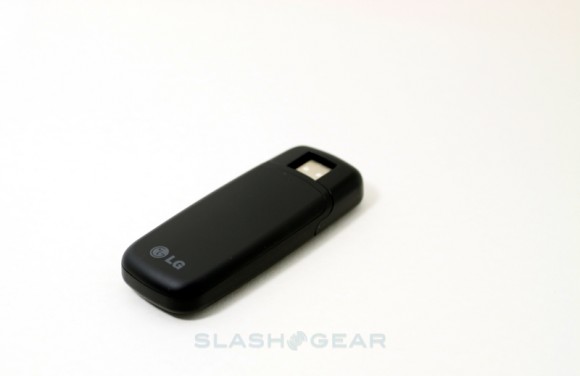 We're less enamored with Verizon's reticence over game-changing data plans, and the 5GB/10GB limits are likely to disappoint those considering LTE as a fixed broadband alternative. The absence of Mac support and occasionally temperamental 3G/4G handover is also frustrating, though both could be readily addressed with a software update.
Verizon has promised 4G mobile hotspots, and they may be more realistic options for the sort of user tempted by LTE. Still, until they arrive, the LG VL600 is a solid way to get your PC online while on the move, and do so at a rapid pace as well. Verizon may not have been first to market with their 4G offering, but the wait has been worth it.
LG VL60 LTE Modem unboxing and hands on
[vms 40070ce6c69c48cd588e]