LG V60 ThinQ 5G hands-on: 5G in two screens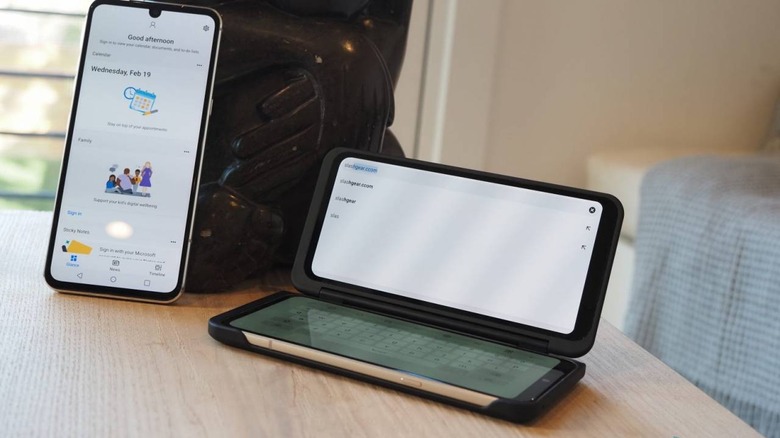 With MWC 2020's cancellation, LG fans might worry that the company lost its chance to put the rumored LG G9 ThinQ under the spotlight. It turns out, the company might not have planned that at all in the first place. Out of the woodwork comes not the next G series flagship but the LG V60 ThinQ 5G. And just like what its name suggests, it places a heavy emphasis on the new network technology while also remembering the hard-earned lessons of the past.
Futureproofing the future
Everyone is singing about 5G, or at least everyone in the mobile tech market. Truth of the matter, however, is that the technology isn't really there yet as far as reliable availability is concerned. Even LG knows that not all 5G networks are created equal and there will differences in spectrum support and models along the way. Its strategy, however, is to get consumers ready for that inevitable future.
That's the same strategy it took in betting on 2K and 4K screens, both on TVs and in mobile, and it's now reaping the rewards. Hi-res content has now become more common and those who invested early in these technologies are being rewarded by having their devices ready. There will be a period of change and maybe even some confusion with 5G but, once the dust settles, the LG V60 ThinQ will be there waiting in consumers' hands.
Two Screens, Third Try
Last year's LG V50 ThinQ debuted what may be LG's biggest innovation in recent years: the Dual Screen. As with any first try, the V50's second display ran into a few rough patches. The company addressed those in the subsequence LG G8X ThinQ and now it's bringing those lessons back home to the V line.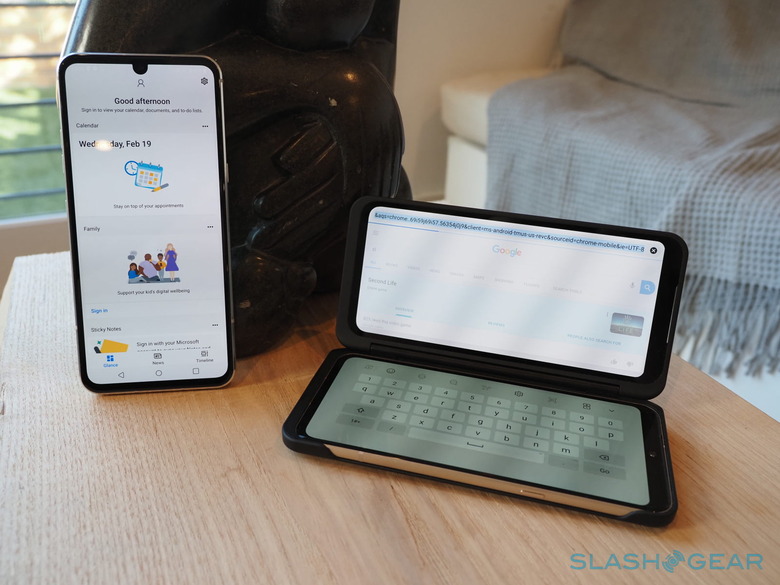 Just like the G8X's Dual Screen, the LG V60's partner is now on equal footing in terms of resolution and design. Both sides have 6.8-inch 20.5:9 2460x1080 FHD+ P-OLED panels and, unfortunately, both also have that same waterdrop notch. The hinge is no longer locked in a fixed position but could be left at any angle. The Dual Screen's ribbed back, which might remind you of the latest Google PixelBook Go, make it easier to grip while a new 2.1-inch Cover Display, taken from the G8X ThinQ's Dual Screen, let's you see important information without even opening up the phone.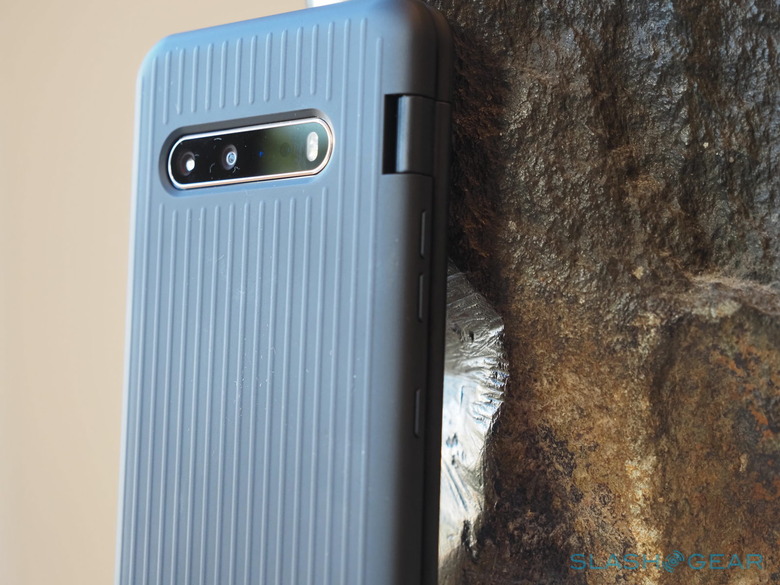 It isn't just the hardware that has been improved either. LG has extended the custom functionality of its Dual Screen to more apps, now allowing YouTube and Google Maps to span both. It's still a lot less than we would like but LG says they have been in touch with Google's Android team, giving hope that things will improve in future versions. Whether LG has fixed display temperature and software problems we've seen on the G8X ThinQ is something a more thorough review will reveal.
Back to Two (Cameras)
The LG V60 ThinQ has a camera array that is as long as the LG V50 but it's pretty deceptive in that regard. From three cameras it goes down to two. Its reason was the same one it gave in last year's LG G8X ThinQ. LG argues that few people really use telephoto features over wide-angle so it considers the former almost unnecessary. It does have a time-of-flight (ToF) sensor, though, but that's not something you will be able to directly use in taking photos.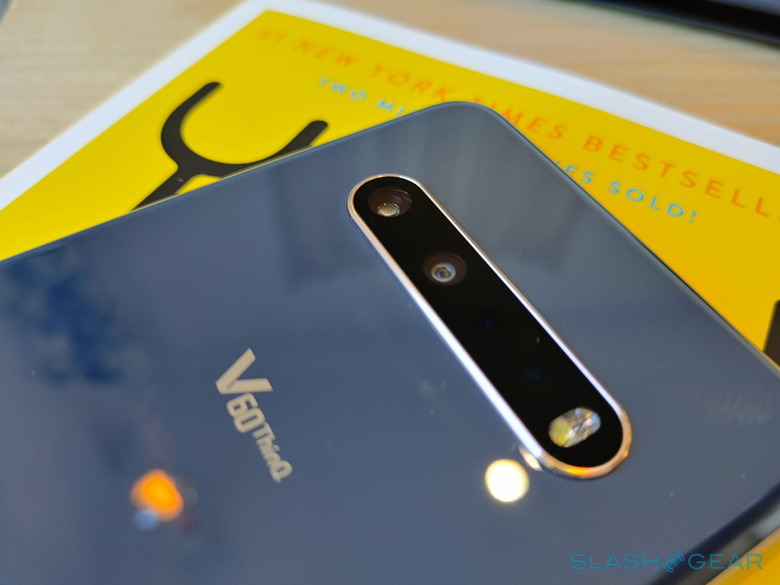 The fact is that LG also had to do some cost-cutting to bring the LG V60 ThinQ down to a more affordable level. With the addition of 5G and higher-end components, it would have to leave unnecessary hardware out. And if camera choices have to be made, LG already made known what it considers to be essential.
Not that it is leaving users with something substandard, at least as far as specs go. The LG V60 ThinQ has, in fact, its highest image sensor so far at 64 megapixel f/1.8. Of course, it uses quad pixel binning to get a 16 megapixel image by default but users can always make use of all 64 million pixels if they want to zoom in on details (which is, again, why it considers a telephoto camera superfluous). A 13 megapixel 117-degree f/1.9 camera makes up the other half of the V60's camera story. With 8K video recording and a few interesting modes like timelapse, LG reassures consumers that they won't be missing a thing even with just two cameras. Here are a few quick samples to let you be the judge of that.
Four ears to hear you better
LG has been particularly proud of its audio prowess, particularly with its 32-bit Quad DAC technology that's still present in the LG V60 ThinQ (yes, it still has a 3.5 mm headphone jack). For this round, though, it is putting a heavier emphasis on audio input and, no, it isn't just about that odd ASMR mode.
The V60 ThinQ boasts four new high-performance mics that are able to take in audio from almost all directions. In addition to improving audio quality, it also enables features like Voice Bokeh, which is LG's term for minimizing (blurring) background noise to let the subject's voice pop out in the foreground.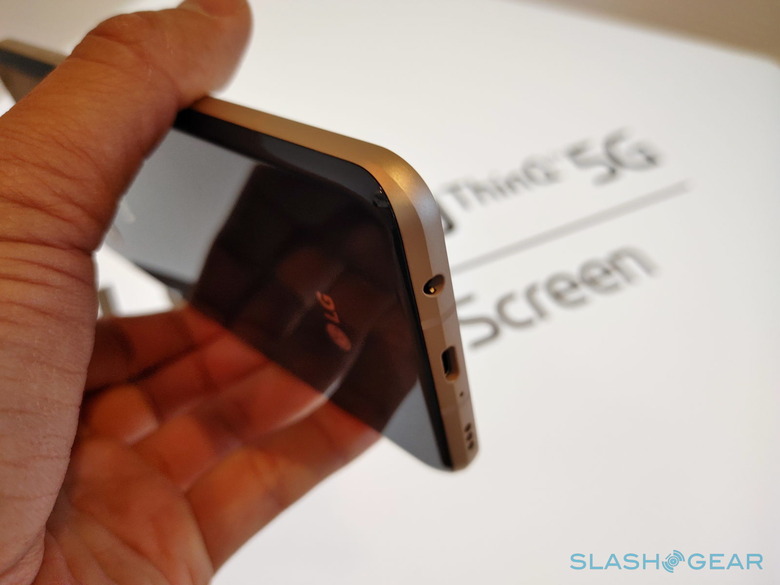 Audio playback does also get a boost via the LG 3D Sound Engine. Utilizing the same technology found in LG TVs, this analyzes sound that is playing to categorize them and adjust audio settings for the best experience, whether you're watching a movie or a sports game. Whether that will make the LG V60 sound more favorable in DxOMark's next benchmark test, we'll have to wait and hear.
Power to last
All those features need an extra beefy platform to run on, which is what the Qualcomm Snapdragon 865 provides, especially when paired with 8 GB of RAM, so far LG's highest. All these features also incur a bit of heft to the device, even without the Dual Screen. But at 218 grams, LG insists it's still manageable. The chamfered edges, now rare in most smartphones, do add a bit of grip to it but LG's comments about reaching 7 inches in the future could be a bit worrying.
The biggest weight might be something users won't mind, though. The 5,000 mAh battery is, according to LG, the highest capacity allowed by regulators from a single lithium-ion pack. If you have the Dual Screen always attached and always enabled, it will still drain faster than normal. Fortunately, both fast 25W wired charging and standard wireless charging are included.
Wrap-up
If you were expecting something radical that would catapult LG into the spotlight, the LG V60 ThinQ 5G could come off as a disappointment. But save for a few pioneering phones like the modular G5, second screen V10, and the dual-screen V50, LG's strategy has always been one of steady refinement rather than revolutionary change. In that sense, the LG V60 ThinQ 5G definitely represents some of LG's best. Only "some" because it is taking a gamble in pushing 5G at the expense of staples like cameras. We'll have to see whether two are really just as good as three, but LG will need some heavy marketing to get consumers convinced enough to invest in that claim.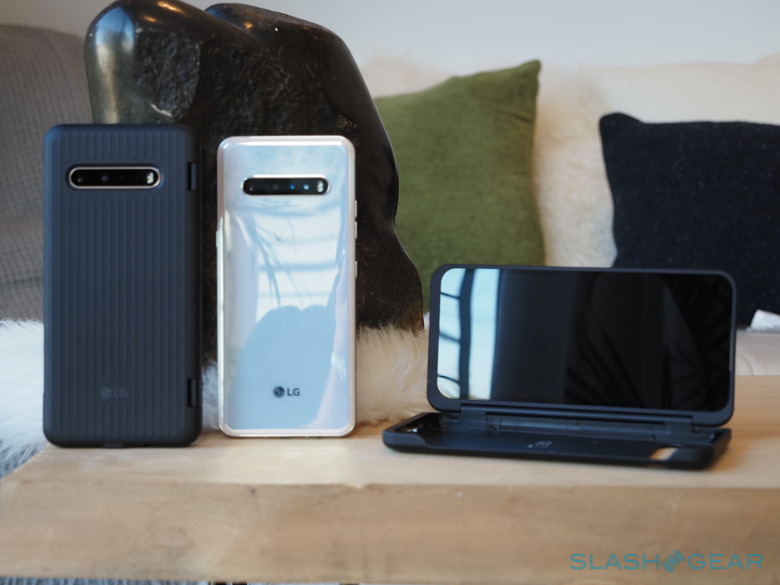 LG does boast that it has struck a balance between 5G, features, and price but it will be up to carriers and retailers to determine that figure. More importantly, it will be up to those partners to decide whether they will even bundle the Dual Screen with the phone. The LG V60 ThinQ will be available in the coming weeks from AT&T, T-Mobile, US Cellular, and Verizon, the latter offering a UW model to work on its 5G Ultra Wideband network. Color options only include "Classy Blue" and "Classy White" because, for some reason, LG was told to avoid black.