LG V10 hands-on: Oddball selfie and display doubling hide manual 4K core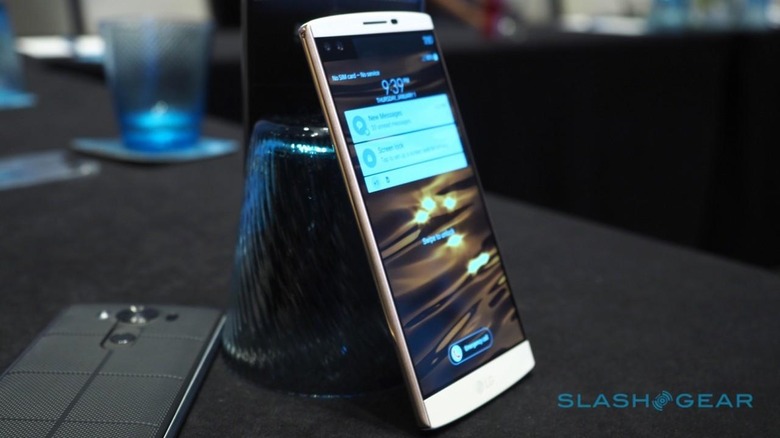 Are you a city adventurer? That's what LG wants to know with the launch of the new LG V10 smartphone, arriving today alongside the LTE-connected LG Watch Urbane 2 smartwatch. It also appears to be the result of LG taking an adventure walk through its parts bin, with unusual features like dual front-facing cameras.
Why would you need that? According to LG it's all about the selfie. On the right is a typical 80-degree lens, but on the left there's a 120-degree ultra wide camera. Both can fire at the same time for "multi-view" pictures, with various layouts supported.
LG V10 front and rear camera hands-on with Dr. Ram-chan Woo
The upshot, according to LG, is that people won't have to lug around a selfie stick any more. Each shoots at 5-megapixels, and while I'm not entirely convinced that selfies alone sell phones, there's some interesting software doing the stitching that suggests the system is more than just an outright gimmick.
On the back there's a 16-megapixel camera, from which LG is promising "the best" video recording. That's 4K resolution of course, but there's also a dedicated EIS image stabilization chipset, three microphones for directional audio recording, and manual control over audio levels, and wind noise filtering.
For stills, there's a large selection of manual controls too, including white balance, ISO, and shutter speed.
LG V10 Extensive Camera settings hands-on
That's not to say that only imaging pros will get the best from the V10. There's a 15-second Auto Edit function which will automatically analyze longer movies, pick out what it thinks are the interesting parts – based on motion vectors and other scene factors – and curate them into a more manageable chunk.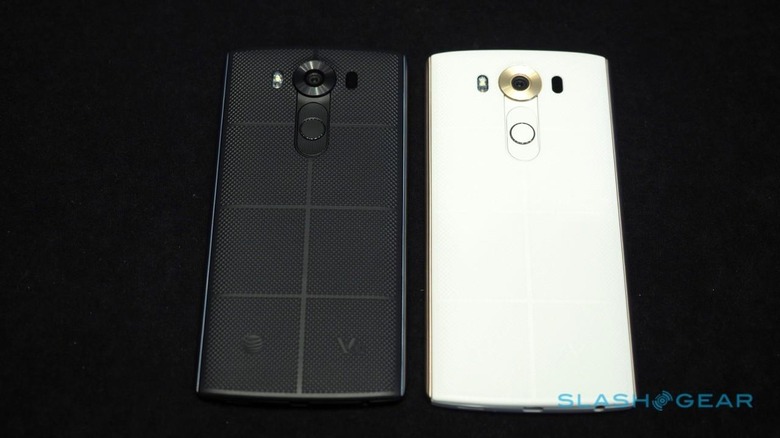 That can then be shared on Facebook, YouTube, and Instagram – there's a quick-share feature built-in too – to sate the short attention spans of parents and grandparents (oh yes, and millennials).
A second curation feature, Snap Movie, picks out shorter, three second clips and at the end of the day mixes them all together into a single, minute-long highlight reel.
As for the phone hardware itself, the twin cameras aren't the only doubling up LG has been doing.
The V10 has a 5.7-inch primary display, but above it there's a secondary screen, a long strip running at 1040 x 60 resolution.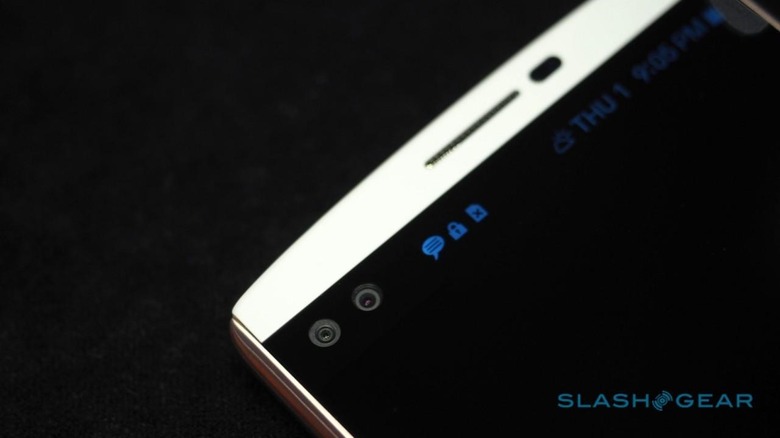 It's used for always-on notifications and status updates, and though you can turn it off it you wish, LG says it learned from always-on smartwatch screens to ensure it doesn't drain your battery, including auto-dimming in low light situations. In fact, the company claims there's less than a 5-percent power impact across the course of a day.
With it, you can see new message notifications, battery status, time, and such; with the phone on it becomes a quick launcher, with app icons, options to change ringer profile and toggle WiFi, and control music playback. It's an interesting idea, though I'm not 100-percent convinced that the top of the phone – out of reach of your thumb's natural sweep – is the best place for a shortcut bar.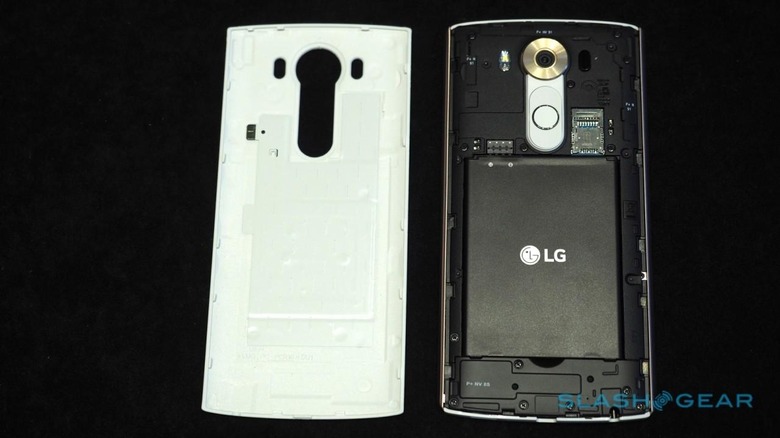 LG has wrapped up a Snapdragon 808 with 4GB of RAM and 64GB of storage inside a 316L-grade stainless steel case. The two displays has a pair of bonded Gorilla Glass 4 protective sheets, and the back has a Dura Skin coating for scratch-resistance. That makes it "basically silicone," LG's Dr. Ram-chan Woo explained, and it helps the V10 survive things like drop testing onto various surfaces from as many as 26 different angles in the company's own torture trials.
Fingerprint scanner setup and test
Also on the back are LG's now-familiar navigation keys, plus a fingerprint scanner. The V10 is 8.9mm thick and weighs 191g, and unlike other recent LG phones has no sort of bend or curve whatsoever; neither is it water resistant.
Instead, you get what Samsung has edged away from in recent generations of flagship, and what Apple has never offered: a microSD card slot and a removable 3,000 mAh battery. They've made the V10 a little thicker than it might actually have needed to be, the company told me, but I'm glad they opted for the compromise. It's something many power users swear by, and I'm pleased there's still an Android option with it out there.
iPhone 6s plus side by side with LG V10
If you're a music fan too, as well as the ability to slot in up to a 200 GB SanDisk memory card full of hi-def tracks, there's a 32 bit Hi-Fi quality DAC powering the headphone jack. That promises 75 level volume control, too, which seems a little like overkill but LG is particularly pleased about it.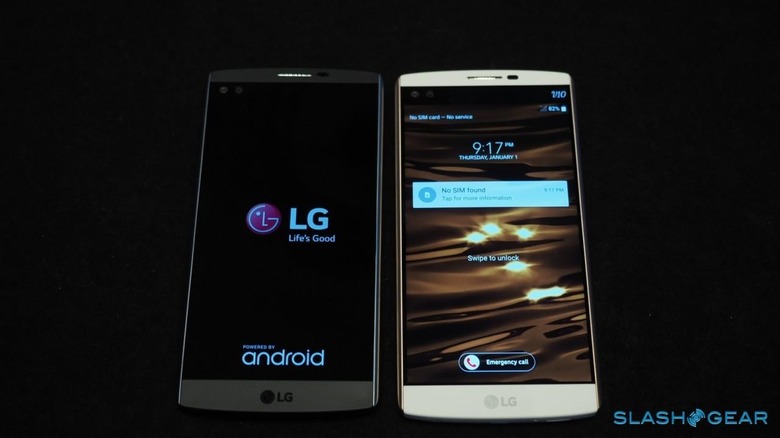 Some of the V10's features seem a little oddball – the dual selfie cameras, for instance, I still need convincing on – but core competencies like greater manual control in 4K video recording could give it an edge over rivals. Its metal casing feels much better in the hand than the plastic G4, also addressing one of our lingering issues with LG build quality.
In the US, the LG V10 will be offered on Verizon, AT&T, and T-Mobile, with pricing yet to be confirmed. It'll launch in South Korea on October 8th, LG says.
[gallerybanner p=407412]