LG to put ARM processors & GPUs into HDTVs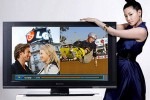 LG and ARM have announced a partnership that will see the former's HDTVs use the latter's ARM11 MPCore multicore processor and ARM Mali GPUs.  The system will allow for not only high-definition 1080p processing but video-on-demand, voting and polling, games, and e-commerce without the need for a separate set-top box.
ARM's range of processor and GPU options will allow LG to target different levels of performance and capability to different HDTV price-points.  That way, high-end sets could use multiple SMP cores and offer 4x and 16x full scene anti-aliasing (FSAA), 2D and 3D graphics processing and OpenGL ES 2.0 support.
The most obvious benefit to consumers will be straightforward connectivity with a home network, and the ability to view video and other media content on their sets without needing external boxes.  LG have not confirmed when the first HDTVs using the ARM CPU/GPU components will be released. 
Press Release:
ARM Provides Technology For LG Electronics Digital TVs

High performance, energy efficient ARM11 MPCore and ARM Mali GPUs to drive the digitally connected home

CAMBRIDGE, UK – June 22, 2009 – ARM [(LSE: ARM); (Nasdaq: ARMH)] today announces that LG Electronics, one of the world's largest digital TV brands, has licensed ARM® technology to power its digital TV (DTV) development revolution.

The ARM11™ MPCore™ multicore processor provides flexible and cost effective processing in next generation DTVs and enables LG Electronics to target a range of platforms with the same architecture simply by implementing single or multiple SMP cores. ARM Mali™-200 and Mali-400 MP graphics processors will open the path to true 1080p resolutions, affording consumers a home cinema experience that includes high-definition graphics, whilst vastly improving the browsing experience on DTV user interfaces.

Consumers are looking for a full Web 2.0 experience from their DTVs. With Adobe and Open source software platforms, and the emergence of tru2way™ technology, consumers can receive interactive cable services, including video-on-demand, voting and polling, games, and e-commerce without the need for a separate set-top box. Additionally, manufacturers are striving to build intelligent AV processing and develop home devices that are truly energy efficient.

"By licensing ARM technologies, LG Electronics will be able to offer a future-proofed premium-quality digital TV experience for today's connected home," said Seung-Jong Choi, research fellow of Digital TV Lab, LG Electronics. "The connected home relies on technology that is fully functional and that guarantees a high-quality, energy efficient multimedia experience. With Web 2.0 requirements moving into a connected and high definition home, LG Electronics has selected the ARM architecture to guarantee longevity for our own technology."

"Today's consumers are pushing manufacturers to produce home technology that allows an environment for sharing digital media and content services. End users are increasingly discerning and are demanding premium-quality experiences through digital TV," said Mike Inglis, EVP and general manager, Processor Division at ARM. "The combination of ARM CPU and Mali graphics processors clearly represents a compelling package for DTV and connected home technology manufacturers, who will be able to provide their customers with integrated, high-quality, Internet connected, multimedia-ready devices that are proven to be energy efficient."

ARM innovations in high performance, energy efficient technology are supported by the industry's largest network of Partners – the ARM Connected Community™. This combination of technology innovation and collaboration is extremely attractive. The ARM Connected Community of over 500 Partners brings together leading silicon, systems, design support, software and training providers to provide a complete solution for products based on the ARM Architecture.

About ARM11 MPCore

The market proven ARM11 MPCore synthesizable multicore processor provides a scalable solution that addresses the requirements of multiple designs. Devices can be configured to contain between one and four processors delivering up to an aggregate 5000 Dhrystone MIPS of performance at 1GHz while providing existing software portability across single CPU and multi-CPU designs. The ARM11 MPCore processor provides the memory throughput required of data intensive applications while delivering greater performance at lower frequencies than comparable single processor designs, so offering significant cost savings to system designers. The ARM11 MPCore processor also simplifies otherwise complex multiprocessor design, reducing time-to-market and total design cost.

About Mali Graphics Technology

The Mali GPU family scales from Mali-55, the world's smallest OpenGL ES graphics processor to Mali-400 MP, the highest-performance embedded multicore GPU IP on the market which supports complex applications at up to 1080p high-definition resolution, thereby addressing the widest range of performance points for all embedded graphics needs. This diverse offering enables ARM to lead in conformance to numerous open standards and confirms the company's unique position as a world-class supplier of the complete range of hardware and software graphics IP, enabling application developers and device manufacturers to create competitive and cutting-edge designs.

Mali graphics processors deliver stunning 2D and 3D graphics providing 4x and 16x full scene anti-aliasing (FSAA) without any noticeable drop in performance. In addition to providing content developers with the state-of-the-art programmable features in OpenGL ES 2.0, Mali products also support 2D scalable vector graphics through OpenVG for improved text, navigation, UI and web-browsing experiences. For more information, please visit http://www.arm.com/products/multimedia/graphics.

About ARM

ARM designs the technology that lies at the heart of advanced digital products, from wireless, networking and consumer entertainment solutions to imaging, automotive, security and storage devices. ARM's comprehensive product offering includes 32-bit RISC microprocessors, graphics processors, video engines, enabling software, cell libraries, embedded memories, high-speed connectivity products, peripherals and development tools. Combined with comprehensive design services, training, support and maintenance, and the company's broad Partner community, they provide a total system solution that offers a fast, reliable path to market for leading electronics companies. More information on ARM is available at http://www.arm.com. 
[via IntoMobile]