LG Q7 tempts the mid-range with Quad DAC and QLens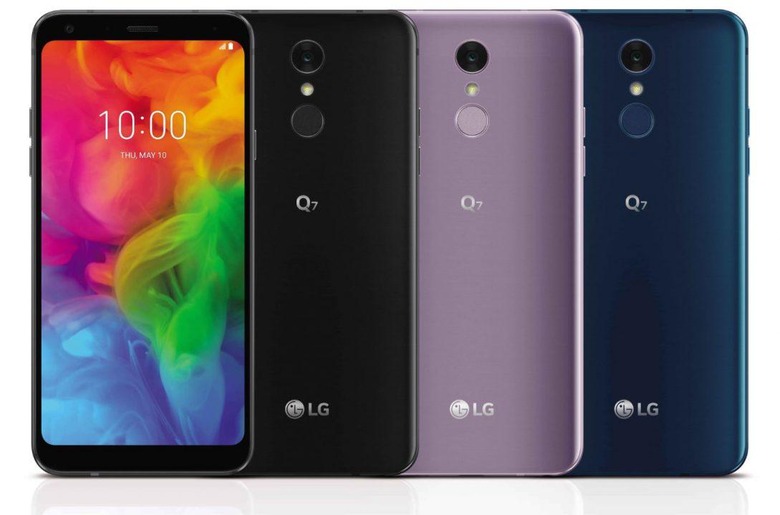 While most people might have eyes on the incoming launch of the LG G7 ThinQ, today the company is also bolstering its mid-range Q line. LG has announced the Q7, which claims to further blur the line behind mid-range and high-end devices. In fact, there are three different models being announced today: The standard Q7, Q7α, and the Q7+.
LG spends much of today's announcement focusing on what's new instead of what's under the hood. It starts off my positioning this as a solid phone for the selfie-obsessed, noting the Q7's front-facing 5MP camera and its 100-degree wide angle lens. We'll also see the phone get a portrait mode, which is a feature that's currently all the rage on flagship phones.
LG is also bringing QLens to the Q7 line up, granting users access to AI image recognition technology that can help with online shopping and general image searching. On the audio side of things, we can look forward to a Hi-Fi Quad DAC on the Q7+, which is a common sight among LG's flagship devices but more of a rare treat in its mid-range phones. That Quad DAC will be paired with DRS:X capabilities for virtual surround sound as well, so if you've got a good pair of headphones, the Q7 might be worth your consideration.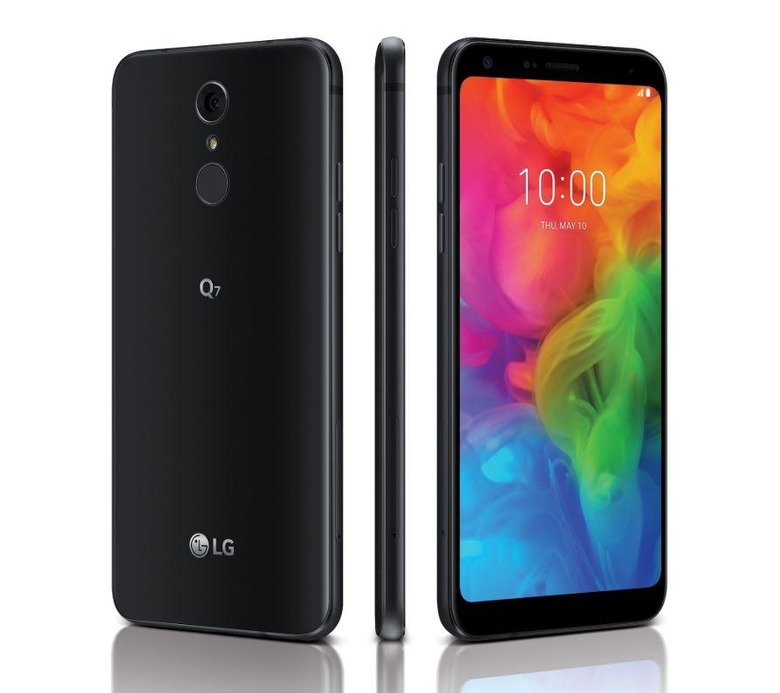 LG has also placed a fingerprint sensor on the backside of the device, which can also be used as a shutter button for taking selfies. Finally, on the list of new features we have IP68 water and dust resistance, so the Q7 and its brothers in the range will be able to stand up to the elements as well.
As far as hardware is concerned, there doesn't seem to be a whole lot that's changing from the Q6. LG says that depending on your model, you'll be looking at an unnamed octa-core CPU clocked at either 1.5GHz or 1.8GHz. The screen appears to be mostly the same one that we saw in the Q6, clocking in at 5.5 inches with FHD+ resolution and an 18:9 aspect ratio.
RAM and storage amounts are similar as well, with 3GB of RAM and 32GB of storage in both the Q7 and Q7α, while the Q7+ sports 4GB of RAM and 64GB of storage. All of these phones ship running Android 8.0, and all of them feature an SD slot to expand storage beyond what's included on board.
In the end, it sounds like the Q7 line will be solid mid-range phones with some exciting features, even if their hardware might not offer much outside of what we'd usually expect. Pricing hasn't been announced yet, but we probably don't have much longer to wait before it's revealed, as LG says the Q7 is launching next month in Europe and later on in 2018 in the Americas and Asia.