LG PZ850T Pentouch TV Combines 3D And Drawing On One Screen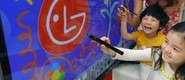 LG is pretty big in the TV market today and has a full line of TVs in all price ranges and just about every category. The company has debuted an interesting new TV that will be offered in 50-inch or 60-inch sizes. The model number for the sets is P850 and they are known as the Pentouch TVs. The TVs are 3D and come with a pair of pens.
When the user is close to the screen, they can draw on it. LG says that the sets are the first to offer this feature. The TV can also be connected to a computer to turn it into an entertainment hub according to LG. The sets use 3D active shutter glasses and only a single pair of them comes with the TV. Naturally, it has USB and HDMI inputs on the back.
It's not clear if the TV will allow you to draw on the screen no matter what the content on the screen is. If you could draw on your favorite or least favorite people right on the TV, this thing might be fun. I know many folks that would get a kick out of drawing horns on Obama during his next speech.
[via The Inquirer]