LG preps sunlight-illuminated notebook LCD for CES 2009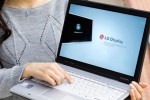 LG has announced a prototype of a LCD panel that is illuminated by sunlight instead of the backlight unit when used in outdoors. Built for the use of notebook, the 14.1-inch sunlight-illuminated LCD can reduce power consumption by 75% with the new reflective mode; with a flip of switch, the multi-functional screen can toggle to the much-conventional transmissive mode as well, offers backlight support like the most of the laptops and cellphones for indoor-use.
The new technology not only increased battery life, it's said to has improved contrast ratio to 9:1, enhancing screen visibility, as oppose to 2:1 or 3:1 for conventional notebook PCs when used outdoors.
Still in its early process, LG has not made public of when the display would make it into commercially-available laptop or the cost of the new panel. We should have more information in couple weeks when LG makes its officially debut at the CES 2009.