LG Pocket Photo 2017 keeps what works, adds a trunk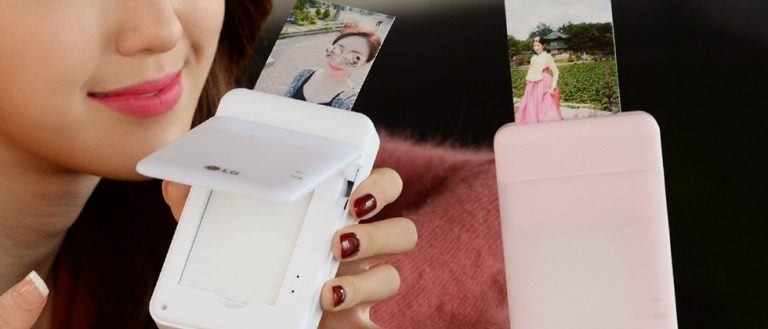 This week the folks at LG have reintroduced their Pocket Photo printer, revealing a 2017 edition with a tiny trunk. This device is small enough to fit in a pocket – as were past editions – and prints to tiny photo paper. According to LG Korea, this device "will lead to more sustainable, easier pocket photos in the compact photo printer market" (rough translation).
It's just as cute as it was in past generations and here, in 2017, the LG Pocket Photo gets features it never had before. This newest Pocket Photo (PD261, may be different in USA release), works with a translucent material on its outer bits that allows the user to see inside.* Because of this, the user will know whether the printer needs more paper after each print is removed instead of having to check manually.
With this device, both iOS and Android smartphones can print photos with LG's pocket photos app. Connectivity to the printer is done with Bluetooth. LG suggests that this wireless, rechargeable battery-using device can print up to 20 sheets before needing to be recharged.
Loading paper is done with a lid that "opens as easily as a car trunk." Trunks (and the rest of the exteriors) are set to be delivered in either white or pink. Users will be able to purchase packs of 30 pieces of paper onto which they can print with this tiny printer, available in both sticky-back type (sticker) or non-stick.
*The exterior of this printer is also "soft" where past editions were a simpler hard plastic. This is a device that LG has clearly put some time into finessing. LG mentions that the "palm-sized [device] (78x125x22mm) fits in jacket pockets and women's pouches." We'll assume that means purses, and we'll add that the device is a mere 177g in weight.
According to LG, the newest LG Pocket Photo will cost a cool 139,000 won, while the photo paper packs of 30 will cost 15,000 won each. Converted with current rates, that's around $120 USD. If we consider how much the most recent LG Pocket Photo Printer costs straight from LG now – $160 – we can assume this next version won't cost all that much different. Printer paper cost here converts to a cool $13 USD per 30 sheets of paper – not half bad.
At this time the exact release date has not yet been revealed. The Korea-based LGE Social blog announced the printer on the 24th of January and we're nearly at Mobile World Congress 2017. Past events precedent suggests we'll see this Pocket Printer in Barcelona – at the tail end of February.