LG P220 notebook has super thin LCD bezel and boxy Mac style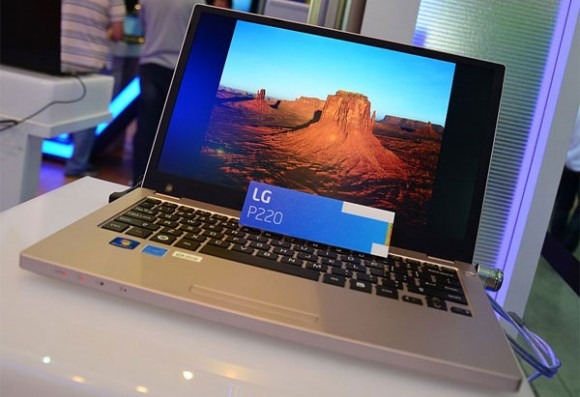 Generally, with any tech show we see a lot of new products that are talked up to the point where we are tired of hearing about them from some manufacturers at the show. Then we get other products that have interesting features that are never mentioned and you only find if you happen to wander around the company's booth and see the gear sitting there on display. That seems to be the case with LG and this P220 notebook that has turned up at Computex 2011.
The machine looks really cool and he have basically no information on it. It doesn't take a trained Mac loving eye to see that the P220 has a lot of the square industrial style that helps make the MacBook Pro line so popular. The feature about the notebook that jumps out at me is the super thin bezel on the machine. It also appears that the webcam is on the bottom left corner of the screen rather than the top since the bezel is so thin.
We don't even know for sure what size the screen on the P220 is. Netbooklive thinks the rig is a 13.3-inch offering and it may be. That thin bezel would probably allow the screen to be put into as smaller chassis than you usually find a 13.3-inch screen in. The keyboard is the popular chiclet design and all the keys appear to be where they should be. The machine is certainly interesting and perhaps we will get more details as the show goes on.
[via Netbooklive]