LG Optimus LTE2 hands-on in Korea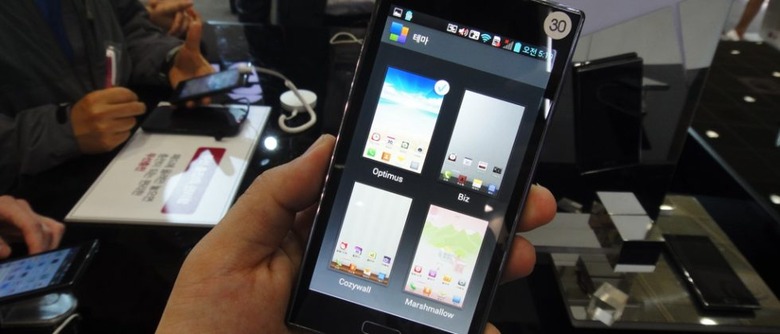 We're all the way over across the pond today to take a peek at LG's newest beast, the LG Optimus LTE2, complete with a Qualcomm Snapdragon S4 dual-core processor, LTE data speed, at a massive 2GB of RAM. This device was announced just this past month as Samsung released information on their own new monster the Galaxy S III, and here in the LTE2 you'll find some fabulous specifications that definitely aim high on the super phone chart for ultimate dominance across the earth. Don't expect this machine to hit the shores of the USA any time soon, but have a peek at how powerful this monster is in the wild today.
The LG Optimus LTE2 will be coming to Korea exclusively (at first) and will be bringing a True HD IPS display with 2GB of RAM to back it up. There's 1280 x 720 pixel resolution in this 4.7-inch display, all of that being brought to the table with the massively impressive Qualcomm Snapdragon S4 dual-core processor being run at 1.5Ghz per core here this week. The gigantic 2GB of memory is impressive, of course, but what we've found while we're just holding it here on display is that it's using a massive 1GB on idle – we must expect that this is just because the device does not have final software in-tact quite yet.
This device has an 8 megapixel camera on the back, voice actions throughout with modifications to Google's own voice recognition by LG, and there's a massive 2.150 mAh under the hood to keep you powered up all day long. The camera itself will be benefitting from the voice actions mentioned here, just saying "kimchi" bringing you video capture. Snap a photo or capture an amazing moment with rolling 1080p with just a word – simple stuff.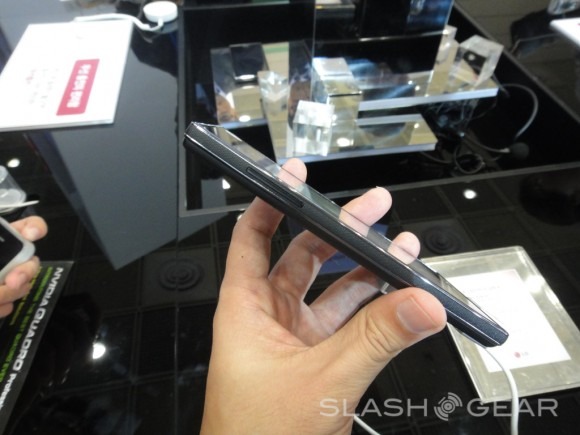 Inside you've got NFC as well as Bluetooth 4.0 and the ability to work with Android 4.0's Ice Cream Sandwich Beam. This ability also works with LG's Tab+ in the wild. This device also has wireless charging if you're into such a thing, and the whole device benefits from a soft-touch backing which makes for an almost fabric-like situation for extreme comfort. Have a peek at the hands-on video, the gallery above and below, and check the timeline for additional coverage of this next-level LG smartphone!